By David J. Cieslak
Arizona Daily Wildcat May 5, 1998

ASUA Senate welcomes new crew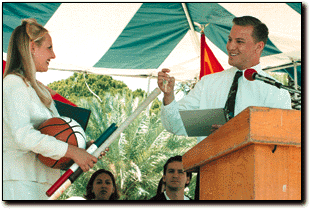 Brian Foster
Arizona Daily Wildcat

Former ASUA president Gilbert Davidson (right) gives incoming ASUA president Tara Taylor the spirit stick and keys to her new office yesterday on the UA Mall.


Protected from the scorching Tucson sun by giant canopies, all 13 newly elected ASUA officials were sworn in yesterday at noon on the UA Mall.

Associated Students Supreme Court Justice Robert Daum swore in new President Tara Taylor, Executive Vice President Cisco Aguilar and Administrative Vice President Ryan Rosensteel along with the 10 fresh ASUA senators.

Taylor addressed an audience of more than 50 people, including outgoing ASUA members and several University of Arizona officials.

"We have been blessed with the opportunity of a lifetime," she said. "I have faith that each of us will continue to make our dreams realities."

After the ceremony, Taylor spoke of her plans for the coming year, including her intent to address several issues that affect UA students.

"Academic advising is really coming to a head," Taylor said. "I don't know that all the problems will be solved this first year, but we need to get the ball rolling."

Taylor also promised to work on uniting large campus groups, a hope that corresponds with UA President Peter Likins' decision last week to assign Saundra Taylor, vice president for student life and human resources, to report directly to him and help bring together the campus community.

Likins was on hand for the ceremony, and said he hoped the new leaders will "shape the campus community for all their constituencies."

He also said he is reassured and pleased with the new student government.

"The student community seems to be serious about providing leadership," Likins said. "I want to see these young people develop because I know what a powerful learning experience this can be."

Tara Taylor's parents, grandparents, siblings and other family members were in attendance and watched as she recited the oath of office.

Her father, Reid Taylor, who came with wife Terri from Apple Valley, Calif., was in tears as he watched his daughter take the oath, and said afterwards that it was "the greatest moment of his life."

Reid Taylor, who did not go to college, said he has hoped his daughter would be successful at a university since she was a fourth grader.

"I want her to value every moment," Reid Taylor said. "She really loves this university."

Gilbert Davidson, 1997-1998 ASUA president, passed down several traditional trinkets to his successor, including a hockey stick with "the secret to ASUA and the University of Arizona."

Davidson said he enjoyed working for the students and it was hard to say goodbye, but he expressed confidence in the new officials.

"I think they're going to do a remarkable job with their issues," Davidson said.

Aguilar received an engraved gavel from his predecessor, Casey Cuny, along with advice about the importance of the instrument.

"Use it wisely and use it as much as you can," Cuny told Aguilar during the ceremony. "It's a fun tool in those Senate meetings."

And Tara Taylor, who is leaving her post of administrative vice president, swore in Rosensteel, who made the transition from his old position as an ASUA club advocate.

"There's no one better to run this office than Ryan Rosensteel," Tara Taylor said before presenting him with a book titled, You Won, Now What?

The 10 new senators also lined up to recite their oath of office yesterday, all looking somewhat overwhelmed.

"I'm going to take it one day at a time," said Senate newcomer Maria Rodriguez.

The new Senate will hold its first meeting tomorrow at 6 p.m. in the Memorial Student Union Tucson Room.