By Chris Jackson
Arizona Daily Wildcat May 5, 1998

Going pro?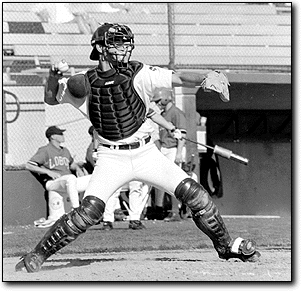 Leigh-Anne Brown
Arizona Daily Wildcat
UA junior catcher Greg Clark (26) attempts to throw out a base runner earlier this season. Clark is one of six Arizona juniors who could move on when the Major League Baseball Amateur Draft begins in June.

The rules Major League Baseball and College Baseball abide by in regard to when a player can be drafted are simple.
After his junior year a player is eligible to go in the June amateur draft and sign a professional contract.
Six key Arizona baseball players now face this possibility because their season has ended.
Right-handed pitcher Darrell Hussman, left-hander James Johnson, left-handed bullpen closer Ryan Moskau, southpaw pitcher/designated hitter Rob Shabansky, third baseman Omar Moraga and catcher Greg Clark are the players in question.
Each said that if he got a reasonable offer he would probably leave school and turn pro.
"I want to sign but I'm not going to leave for just anything," Clark said. "That's what I've told all the scouts I've talked to."
Moskau said getting drafted on the first day is the key.
"That's the top 10 or 11 rounds, and after that you just wouldn't get any good money," he said. "But it's not just about the money, it's just about playing pro ball."
Former UA player Jeff Morris, now the area scout for the Baltimore Orioles, has seen each of the six juniors play this season, and commented on each of them.
"I'm certain just about all of those kids will get an opportunity to play professional baseball," Morris said. "I've seen them all over equal amounts of time, except for Shabansky, whom I've seen the least. He's the one guy I don't have a good feel for."
Shabansky was injured pitching against California in late February and missed a substantial period of time. He never returned to the mound, coming back only as a DH over the Wildcats' final four series.
"The best thing that could happen for him would be to come back healthy and have a great senior year," Morris said.
Shabansky said he's uncertain about his future in pro baseball.
"I'm planning on coming back in the fall but if something comes along, I don't know," he said.
UA head coach Jerry Stitt is counting on Shabansky to return and be the Wildcats' No. 1 starter in 1999.
"Chubby will be back, with the arm injury he won't even be ready to pitch again until mid-summer," Stitt said.
Morris said Johnson may be the first Wildcat to go.
"He's got a leg up because he's left-handed," Morris said. "The game is virtually starving for left-handed pitching and he's got three pretty good (pitches) there."
Johnson is feeling confident about his status.
"(It's) pretty good, from what I hear," he said. "Anything I'd get this year would be a plus because I wasn't even drafted in high school."
Johnson led the Wildcats in strikeouts this season with 116 and in innings pitched with 97.2 while going 7-3 with a 5.07 ERA.
Morris said Hussman's draft standing may have fallen from where it was in the preseason, when he was the 32nd ranked prospect in the country by Baseball America, because of a regular season that saw him go 4-5 with a 9.60 ERA.
"It's a tough call with Hussman," Morris said. "He's a kid we kind of look at with the arm and body, and then we just have to make sure mentally he's ready to play."
Hussman said he's "not closing the door on school," but he's confident he can make it in the minors.
"Oh, yeah, I know what I can do," he said. "Stat-wise I haven't had a great year, but pitching against ASU (on April 26) was just a taste of what I can do."
Hussman pitched 2 1/3 scoreless innings in relief to help UA upset the Sun Devils 10-9 in that game.
Moskau is currently the Wildcats' closer, setting a UA record with 14 saves in his career, but Morris sees his future elsewhere.
"He's a guy that needs to go out and pitch more innings in the professional game," Morris said.
Morris also said Moskau has a "little bit better fastball and breaking ball" than Johnson, and that "he's more polished than Johnson."
As for the two non-pitchers, Morris said Clark may have the easier road, adding that Moraga may need to switch positions.
"He's what we call a solid defensive catcher," Morris said of Clark. "He's got a quick release, he's a pretty good receiver behind the plate. He's going to hit, too, but it's just tough to call where he'll fall, but in professional ball that's the easiest position to get to the big leagues."
Morris said Moraga is a "solid left-handed bat, but the question on him is will he put up the power numbers at the corner position?"
Moraga said second base is "definitely going to be my position of the future."
"They're all good enough," Stitt said of the six. "I'd like to have them all back, but it's not in my hands now."
Morris said predicting when and where the players will be picked is next to impossible.
"It's real hard, because the way the draft goes, for us to say how high or where they'll fall in the draft because of the numbers from organization to organization and how they like a particular player," he said.
To leave or not to leave?
Arizona players leaving for the pros
Pitchers:		W-L 	ERA 	IP 	H 	R 	ER 	BB 	 SO 	SV
Darrell Hussman, RHP	4-5 	9.60 	75.0 	111 	84	80 	45 	 72	0
James Johnson, LHP	7-3	5.07	97.2	104	69	55	45	 116	0
Rob Shabansky, LHP	5-1	3.35	40.1	39	15	15	12	 44	1
Ryan Moskau, LHP	5-3	3.77	45.1	44	30	19	22	 55

Fielders:		Avg.	AB	R	H	2B	3B	HR	 RBI	SB-Att.	 E
Omar Moraga, 3B		.326	193	44	63	19	2	4	 43	8-11	 16
Greg Clark, C		.338	210	49	71	20	1	13	 58	2-3	 12
Shabansky, DH		.439	66	24	29	10	2	3	 20	1-3	 0