By Scottie Bricker
Arizona Daily Wildcat September 15, 1997

Wildcats slip and slide past Blazers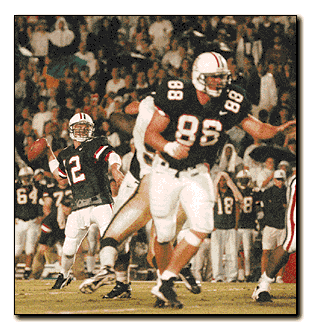 Katherine K. Gardiner
Arizona Daily Wildcat

UA sophomore quarterback Keith Smith (12) aims for a pass down field as tight end Mike Lucky (88) tries to get open. Smith struggled, completing 5 of 16 passes and had two passes intercepted. Smith found the endzone, however, scampering 12 yards down the sidelines with just under five minutes left in the first quarter.


Somewhere amongst the downpour of rain and slippery turf at Arizona Stadium Saturday night came the ominous figures of the Arizona offensive line and the sure-footed running of sophomore tailback Trung Canidate to save the day.

In only his second career start, Canidate established himself as an offensive weapon as he rushed 23 times for 192 yards and one touchdown, in leading Arizona to a 24-10 defeat of Alabama-Birmingham in front of 36,309 fans.

The fans and players had to brave showers and lightning which forced game officials to call for a 33-minute delay to the start of the Wildcats' home opener.

Arizona, as a team, rushed 59 times for 365 yards and three touchdowns as they controlled the muddy line of scrimmage throughout.

Arizona head coach Dick Tomey was pleased with the play of his front line and running backs, but said his team still has some improvements to make before next week's game at Ohio State.

"Trung and the people up front did an absolutely outstanding job tonight," he said. "We took some steps toward where we need to be but there is work still to be done."

Canidate did all the damage he needed to in just over two full quarters of work, as he and fullback Kelvin Eafon were held out of the first quarter because they were late to a team meeting.

Despite his performance, Canidate thinks he still can improve.

"I haven't done much yet," he said. "I expect more from myself. It's all about working hard. That's what I'm all about."

The team talked last week about improving from the performance in the Oregon game, especially in the running game.

"Our plan was to run all over them all night long," guard Yusuf Scott said. "We came out and just did our job, but we were surprised at how well they played us. They showed a lot of heart out there, but we wanted to show that we have heart too."

The passing game struggled for the second week, as Keith Smith connected on only 5 of 16 pass attempts for 98 yards. Smith also had two of his passes intercepted.

"I was kind of hoping to open up the passing game a little more tonight," Smith said, "but when your line dominates like ours did tonight, you have to give them their credit. I am just happy for the team to get our first win."

Smith opened the scoring for the Wildcats on their second drive of the game, as he finished off a 14 play, 71-yard drive with a 12-yard touchdown run off a designed bootleg.

Senior tailback Kevin Schmidtke, who started in place of Canidate, finished the game with 15 carries for 67 yards.

The Arizona defense forced UAB to punt on its first possession, but could not answer the quick strike attack of UAB receiver Kevin Drake on the Blazers' second drive.

UAB drove 67 yards on just two plays as quarterback Lee Jolly connected with Drake on a 38-yard pass which tailback Lucious Foster followed up with a 29-yard burst to tie the score at 7.

Drake finished the night with seven catches for 144 yards, both of which were career highs.

"Drake is a good receiver," Arizona junior cornerback Chris McAlister said. "We didn't execute as well as we should have, but give him credit, he played well."

Arizona was quick to answer with another scoring drive, this one 59 yards, capped by Eafon's one-yard touchdown dive.

The Wildcats added to their lead with Canidate's 66-yard scamper in the third quarter widening Arizona's lead, 21-7.

The teams traded second-half field goals as UAB's Jake Arians booted a 41-yarder and UA kicker T.J. Rodriquez connected from 26 yards out.

"They (UAB) almost snuck up on us," Smith said. "As a team we improved a little tonight, but we just need to make sure we're ready to play every week."