By Susan Carroll
Arizona Daily Wildcat May 13, 1998

Rookie president feels 'pretty good' about 1st year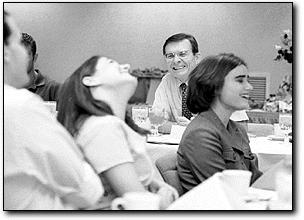 Wildcat File Photo
Arizona Daily Wildcat

UA President Peter Likins meets with students this fall. Likins first year has received good reviews from faculty, students and members of the Arizona Board Regents.


UA President Peter Likins spent Saturday afternoon lounging on the couch with his wife and daughter, trying to talk over the braying laughter of his grandchild.

But most days aren't so relaxing for the University of Arizona's rookie president.

"This year was a real sprint for me," Likins said Saturday. "I was just racing through every day of every week."

Likins is approaching the finishing line, with graduation just around the corner - and he's feeling pretty good about himself.

"I feel wonderful about the first year," he said. "I think it has exceeded every expectation."

And people expected plenty of the former Lehigh University president and Columbia University provost, said faculty chairman Jerry Hogle.

Hogle said there were a lot of indications that Likins would be a hands-on president.

"He has been much more so out among the students and faculty than his predecessors were," Hogle said. "He's been trying to get a grip on the campus."

After seven months as president, Likins says his grip is secure.

"I feel very, very good about the relationships established between students, faculty and staff - and the regents and Legislature," he said.

Regent Judy Gignac said Likins is on course in his presidency and reaching out to people on and off campus.

"He has touched base with every possible group I can think of," Gignac said. "He's moving cautiously and making changes, which I think is good."

Likins does have a goal in mind.

"I've said it before, but I mean it in a very deep way - we need to establish a happy, confident university community," he said.

But his relationship with some students and employees hit rocky times after the UA illegally released Social Security numbers to MCI Telecommunications Corp. and Saguaro Credit Union while implementing the new CatCard.

Likins took the blame for the CatCard fiasco, calling it a "minor problem." He tried to appease enraged community members by retrieving the numbers and holding a forum to air concerns.

"It gave me an opportunity to demonstrate a way of dealing with issues when they arise," he said, calling the forum a "gratifying experience."

"I realize in retrospect that is not the traditional way things are handled at the University of Arizona," Likins added.

Hogle said Likins' stepping up and taking responsibility is refreshing.

"In the past, there has been a great hesitancy to deal with problems," Hogle said. "I like the fact that he takes responsibility for problems and asks to have them fixed."

One of the major issues Likins has tried to tackle is the lack of funding in higher education. He has not kept his goal to put more money in the university budget a secret.

"It's very important that we bring more money into the institution," Likins said. "We need to better finance what we do in order to achieve our mission."

Likins said he will try to improve the quality of life for "all 50,000 beings in the University of Arizona family" next year.

But Likins has raised a sizable family of his own. He and his wife of 42 years adopted six children, now ages 29 to 36.

"Right now, family for me means my wife," he said. "I'm a hard guy to be married to, just because of the hours I put in."

"We've been married 42 years, and she understands me very well," Likins said. "She's very happy in Tucson, and that's very important to me."

"I'm 61 years old," he added. "I think a lot of people just don't realize that."

It could be because, as he said, he has more energy than a 4-year-old.