By Chris Jackson
Arizona Summer Wildcat June 17, 1998

Making the cut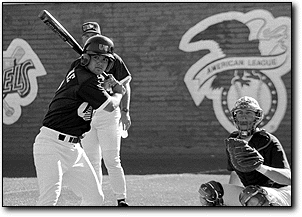 Brian Foster
Arizona Daily Wildcat

B. Foster/Arizona Summer Wildcat Keoni DeRenne, a sophomore from Honalulu, was the only UA player chosen for the USA team. The shortstop and the rest of the USA team are in Nicaruaga trying to qualify for the World Championships in Italy in late July.


Arizona Summer Wildcat

Any night alone in a hotel room a long way from home can be nerve-wracking.

For Arizona sophomore shortstop Keoni DeRenne, Friday night was just that, made even worse by the fact he was waiting to see whether or not he had survived the roster cut for the USA national baseball team,the same team that represents the United States in Olympic competition.

"They said that if someone came and knocked on your door it meant you'd been released and Coach (Ron) Polk wanted to talk to you and give you your plane ticket home," DeRenne said. "I was feeling really nervous."

DeRenne said the players were released in alphabetical order, and once they got past the Ds, he felt a sense of relief.

He had made the national team along with 25 other college players from around the country.

The move to cut the roster from 44 to 26 players came just before the team's final two games against Canada and before the World Championship Qualifier Tournament begins in Nicaragua this week.

Among those cut was DeRenne's UA teammate, senior third baseman Omar Moraga. Moraga said he will now go home to make a decision as to whether or not to sign with the Cleveland Indians, who took him in the 50th round of the Major League Amateur Draft, or to return to Arizona for his final year.

The final decision as to the fate of both Moraga and DeRenne was in the hands of USA head coach Ron Polk.

"We had a lot of good kids come into camp," he said. "Keoni offers a lot. He can play three infield positions, he's a switch hitter, he runs well, he's a real plus young man. He's a good student of the game.

"We were looking for the best freshmen in the country for this team and in Keoni we got one of the best."

DeRenne said that the key to his making the team was timing.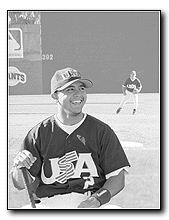 "That's how it is in baseball," he said. "It's all about the timing. I needed to show that I can run, hit and field with the best. I could have come out here and gone 0 for 10, but luckily for me it all fell into place."
DeRenne batted .300 (6 for 20) with three runs scored, a double and two RBI over the national team's first nine games in which the team went 7-2.
DeRenne's selection did not surprise Miami pitcher Alex Santos, who also made the cut.
"Any time you have a second baseman who can hit from both sides and play great defense you want him on your team," Santos said. "He's got a great attitude, he's a real scrappy player, and that's what you want. He makes things happen."
Santos has known DeRenne for over a year, as he had the task of showing the then-high school senior around the Miami campus when DeRenne was brought in on a recruiting visit.
"I'm real disappointed we didn't sign him," Santos said. "He's a great player and a real happy-go-lucky kind of guy."
Another player who had seen DeRenne before the training camp was Arizona State infielder-outfielder Willie Bloomquist.
"He brings a little life to the ballpark," Bloomquist said. "He brings a lot of intensity to the team and other guys can feed off that."
Bloomquist also survived the cut, meaning that seven players from the Pacific 10 Conference made the team, more than any other conference.
"Without a doubt it's the toughest conference in the nation," Bloomquist said. "I know we don't get as much recognition as we should, maybe this will help."
Thoughts of the Pac-10, though, were distant as the team geared up Sunday for an 18-hour plane trip from Tucson to Phoenix to Miami and finally to Managua, Nicaragua.
"I've been to Cuba so I kind of have an idea of what we'll see," DeRenne said. "A lot of poverty, a lot of hard conditions for people."
DeRenne was in Cuba for the 1996 World Junior Championships, but he said that with Nicaragua he really doesn't know what else to expect.
His teammates also did not know what they would find.
"All they've told us is to not drink the water," Bloomquist said when asked if the coaches had said much about Nicaragua.
Coach Polk said he has been to Nicaragua before.
"It's a different environment, but it is a baseball field just like any other," Polk said. "We just don't want the kids to get distracted. We just have to think of it as a long road trip.
"My big concern is that we're so young," he added. "Our average age is like 19 or 20, while Canada was about 23. We have to expect that among all the teams we play down there."
Among the teams USA will face include Argentina, Canada, Colombia, the Dominican Republic, Honduras, Mexico, Panama, Venezuela and the host Nicaragua team.
The USA swept Mexico in four games last week and took three of five from the Canadians.
The Americans will open against Venezuela today with Texas A&M left-hander Casey Fossum (1-0, 1.00 ERA) on the hill.
"I'm looking forward to playing down there," Santos said. "I want to have a good time, and I think all we have to do is remember our number one priority and goal is to go out and qualify for the World Championships."
DeRenne said that avoiding distractions off the field is the key to having a good showing. The team needs to place in the top five to qualify for the World Championships in Italy in late July.
"I'm just really going to concentrate on baseball and not let the environment affect me," he said. "It's probably going to be real hot and humid, like Hawaii weather. If nothing else, I'll get a little moisture back into my skin, because every time I come here (to Tucson) I dry out so fast."