By Brian Barker
Arizona Summer Wildcat June 17, 1998

Trackers keep on keeping tabs on turtles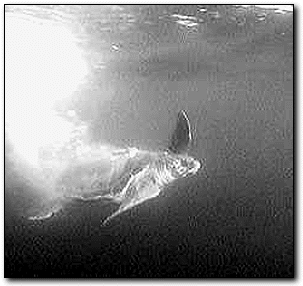 Associated Press
Arizona Daily Wildcat

Photo Courtesy Turtle Trax Adelita the loggerhead turtle swims through the sea while being tracked by satellite by Jay Nichols, a UA doctoral candidate in wildlife ecology. In October Nichols lost transmission from Adelita off the coast of Japan.


Arizona Summer Wildcat

The story of Adelita the turtle may seem tragic, but one UA researcher still sees a chance for a happy ending.

Jay Nichols, a University of Arizona wildlife ecology doctoral candidate, tracked the loggerhead sea turtle for a year using a satellite transmitter.

In October, all transmission from the 233-pound turtle ceased off the coast of Japan.

Nichols, a Fulbright scholar, said the data indicates Adelita likely drowned in the nets of Japanese fishermen.

"It was a sad end to a remarkable transoceanic journey," Nichols said, adding Adelita's death was not in vain.

"This result is encouraging," he said, "as it is an indication that there is progress to be made. By combining results from this turtle with those of others we can begin to understand more about sea turtle mortality."

Nichols said he has hardly dwelled on Adelita's death and has started tracking another juvenile loggerhead, Xiomara. He and a six-person team are preparing to track three more turtles from Baja California.

"We'll release the next three this summer along the Pacific Coast," Nichols said.

He hopes to follow the juvenile turtles into maturity and hopefully back to their nesting beaches. Like Adelita and Xiomara, the three new turtles will have hand-sized transmitters attached to their shells with marine epoxy.

"We hope these new turtles will be tracked for two years," Nichols said. "There are many complicating factors involved, however, so we'll take what we get."

The research teams plan to keep tabs on Xiomara for another year.

"Her track is quite interesting as it shows a gradual movement down the Baja Coast and then offshore," Nichols said, "I expect that Xiomara will follow the food."

Nichols said he hopes the interest expressed in the Adelita study will lead to financial backing for his upcoming project.

"We are still in need of some sponsors for these next three turtles," he said, adding he prefers to involve schools and modest sponsors instead of large agencies.

"This approach is more complicated," he said, "but it reaches and involves more people in the process. We even sell T-shirts to fund the project."

Nichols' enthusiasm for the project appears to be contagious. Along with his research team, dozens of fishermen, several Mexican non-profit organizations and students and teachers from Baja California have volunteered to help. The Mazatlan Aquarium also is creating an educational display with regular updates.

Wayne Decker, UA International Studies and Fellowships director, said Nichols' approach to the study made it a success.

"He builds tremendous public support for important science," Decker said. "He doesn't confine himself to the lab."

Nichols himself was optimistic - both about the turtles and about the project's impact.

"Knowing that one's research can reach so many people and perhaps inspire respect for all of nature is a strong motivator," he said, "but basically I just really enjoy what I do."
Want to do some turtle trackin' at home?
Check out the World Wide Web at: