By Annie Holub
Arizona Summer Wildcat June 17, 1998

Work in progress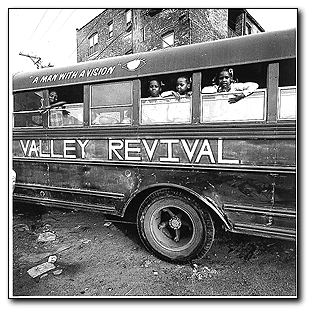 Wildcat File Photo
Arizona Daily Wildcat

"Miracle Valley Revival, Vacant Lot, Chicago, 1979," is on display as part ofCrafting Light: the Photography of Laura Volkerding, at the Center for Creative Photography through July 26.


Arizona Summer Wildcat

If you're reading this, then chances are you're stuck in Tucson for at least part of the summer, and if you're here, then it can be further deduced that your primary goal is to seek air conditioning, regardless of the building it's in.

While a credible goal, you may find yourself in, for example, the International Wildlife Museum, surrounded by dead animal carcasses. This is hardly refreshing.

Luckily, (see? there is a point to this) there's the Center for Creative Photography. Just the sight of the cool gray exterior is enough to talk eight to ten degrees into packing up and heading for the Bahamas.

Currently on exhibition over at the CCP is Crafting Light: The Photography of Laura Volkerding. Taken from the CCP's archive on Volkerding, the exhibit examines the artist's travels and her obsession with craftsmanship.

Volkerding turned to photography in 1972, after a fire ransacked her studio and destroyed her work from her previous genre, which was printmaking and graphic design. Armed with a panoramic camera, she set out to photograph her surroundings, in and around Kentucky. Part of the exhibit shows her earlier photographic works, which depict gospel churches and churchgoers.

The other half of the exhibit concentrates on her aforementioned obsession with craftsmanship. In the late 1970's, she traveled to Europe, inspired by a film about the making of Rodin's Gates of Hell, and began photographing artists at work. Instead of showing the finished product, she shows the work in progress-artists standing near sculptures still encased in scaffolding, or a tray of woodworking tools. One photo, entitled "Versailles," is of sculpture stacked against walls in a large empty hallway. Volkerding shows the stuff most people never get to see-what's behind the door labeled "Employees Only."

The Center is currently undergoing construction, and while only a small portion of the exhibit is shown, it will be rehung in its entirety should construction conclude before the closing date of July 26, Evans said.