By Bryon Wells
Arizona Summer Wildcat July 15, 1998

Burning down the house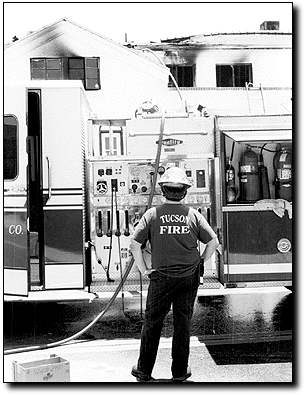 Wildcat File Photo
Arizona Summer Wildcat

Jennifer Etsitty/Arizona Summer Wildcat Tucson firefighters enter the Alpha Tau Omega fraternity house, at North Cherry Avenue and East First Street, to make sure the fire is out. The unoccupied building burned down Sunday morning. One firefighter was injured while battling the blaze, which was caused by arson.


Arizona Summer Wildcat

One frat had moved out.

Another was about to move in.

Then the fire started.

The three-alarm arson blaze that ravaged an empty UA fraternity house has left Delta Tau Delta fraternity members in limbo, as they were set to move in to the now-condemned house this week.

Alpha Tau Omega's former fraternity house at North Cherry Avenue and East First Street caught fire sometime before 5:30 a.m. Sunday, said Tucson Fire Department spokesman Brian Delfs.

University of Arizona police Cmdr. Brian Seastone said investigators found more than one ignition point within the nearly 70-year-old structure and confirmed the fire was arson, but had no suspects.

The house was appraised at $850,000 before the fire, but no damage estimates were available. Delfs said insurance adjusters are investigating the ruins to determine the entire cost of the damage.

Alpha Tau Omega, which was forced out of the house after losing its charter in May, still owns the house and was negotiating with Delta Tau Delta to sell it, said Greek Life Coordinator Bob Gordon.

Mark Eicher, Delta Tau Delta's chapter president, said the house is in escrow and his fraternity is not obligated to take the burnt remains.

"It's our choice either to take it or leave it," he said. "We're waiting for a feasibility study to see if it's worth it or not. If it's not worth the time or money, we don't want it."
Fire and The House
The fire was spotted at about 5:30 a.m. Sunday by an off-duty Tucson police officer and a UA security officer.
Sixty firefighters and 27 units took about three hours to quell the blaze, and a portion of North Cherry Avenue remained closed most of Sunday morning.
One firefighter suffered a broken hand when a section of roof collapsed. Two other firefighters tumbled through the second floor when the floor collapsed but were not injured, Delfs said.
Firefighters who remained for "firewatch" duty at the house later saw the roof catch fire again about 12:28 a.m. Monday said TFD Battalion Chief Brad Olson.
"We keep thinking that it's all the way out but the roofing material is so thick that it just holds in the heat," Olson said in an early Monday morning interview.
Delfs said the roof is comprised of highly flammable materials such as plywood, tar paper and insulation, and was removed Monday to prevent yet another flare-up.
"When we have fires pop up like that the only thing to do is cut [the roof] out with a chainsaw," he said.
The house, at 1050 N. Cherry Ave., later was ruled unsafe and condemned, said Susan Harbin, Tucson's assistant director of development services.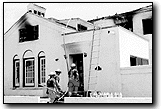 Police Investigation
The arson investigation led officers to the home of Christopher C. Eddy, a former member of Alpha Tau Omega, where they found what appeared to be the burned house's front door decorated with the fraternity's crest, Seastone said.
He added that the door was intact when Delta Tau Delta members left the house at 7:30 p.m. Saturday, and was missing when firefighters arrived Sunday morning.
Officers also recovered three couches from the fraternity house and confiscated two group photographs of Alpha Tau Omega members from Eddy's home at 49 E. Adams St., which he shares with two roommates, police reports stated.
Eddy, 19, has not been named as a suspect in the arson, but was detained after police discovered he had an outstanding warrant stemming from February allegations of drug and drug paraphernalia possession, Seastone said.
Police also found a suspected marijuana plant in the kitchen, several plastic baggies containing suspected marijuana, a scale, rolling papers and several bongs, according to university police reports.
Eddy was taken to university police headquarters for questioning, transported to Pima County Jail and later released by Pre-Trial Services.
What to Do with Delta Tau Delta
Delta Tau Delta members are still living at their house at 1550 N. Vine Ave., and only discussions with UA officials and Residence Life, which owns the property, will determine whether they stay, or where they'll go if they don't, Gordon said.
"My main concern is for Delta Tau Delta at this point and where they're going to live come fall," he said. "If that house has been condemned, there's a 99 percent chance that if they end up with it, they're going to have to rebuild it."
Despite the fact they had not moved in yet, Delta Tau Delta brothers had been working to spruce up the house prior to the fire.
Philanthropy chairman Nathan Bowlin said he and Eicher had been doing some minor house repairs Saturday and had installed new carpet, bathroom tiles and a ceiling fan in one of the bedrooms.
Wynn Smiley, executive director of Alpha Tau Omega's national organization, said he regretted that the Delta Tau Delta fraternity members' home was burned.
"We're saddened by the event because we know Delta Tau Delta was in the process of getting ready to move in," he said.
Eicher said he and other members will simply wait.
"The damage has already been done," he said. "We're just moving on in an orderly fashion ...the important thing was nobody was severely hurt."
Alpha Tau Omega Charter Revoked
The UA chapter of Alpha Tau Omega was stripped of formal recognition May 14 by the national organization and evicted from the house two weeks later.
Gordon said he did not know the specific details as to what prompted the revocation, but said it stemmed from the findings of periodic reviews conducted by the national organization.
A chapter consultant from the fraternity's national organization visited the UA chapter last fall to conduct a routine examination, then decided a second review was necessary, which was conducted this spring, Gordon said.
"If I had to characterize it from my conversations with them it would be that ATO was not moving in a positive direction," Gordon said. "ATO was not necessarily living up to the ideals of a fraternity."
Financial problems also apparently plagued Alpha Tau Omega, which was placed on probation last fall after an unregistered party prompted an investigation by the Greek Judicial Board, said Dean of Students Melissa Vito.
"I'm not sure that we have ever closed a chapter for financial delinquency - it was the alleged behavior of one of the former members," Smiley said. He would not elaborate further.
He said closing the chapter was the only step the national organization could take.
"As far as our office is concerned ATO doesn't have a charter, ATO is not a student organization," Gordon said.