By Sarah Guzzardo
Arizona Summer Wildcat July 15, 1998

Closure of clinic leaves UA employees in waiting room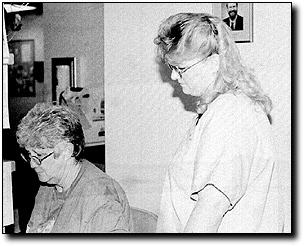 Jennifer Etsitty
Arizona Summer Wildcat

Jeanette Mueller (left) and Robin Torres for the Thomas-Davis Medical Center enter data into the system computers yesterday. Mueller, who has been working at Thomas-Davis for six years as a medical assistant office specialist, and Torres, a pediatric triage nurse for three years, are upset that the clinic is closing.


Arizona Summer Wildcat

Olivia Lopez found out that Thomas-Davis Medical Centers will close next month in Arizona. Now she may lose her physician.

About 1,700 University of Arizona employees will face the same problem when clinics close Aug. 31, said Jerry Ford, director of compensation and benefits at the UA.

Lopez said when she and her daughter tried to schedule an appointment, she learned the clinic isn't making any more.

"I've been a patient at Thomas-Davis for 38 years and I'm upset that I may lose my doctor," said Lopez, a 60-year-old Tucson resident.

UA employees and their dependents enrolled in Intergroup or Pacificare, who receive medical care at Thomas-Davis Medical Centers, may lose their primary care doctors.

But Ford recommended university employees adopt a "wait-and-see" attitude.

"At this point we're telling UA employees to do nothing yet. Intergroup is trying to retain the Thomas-Davis doctors in some other size, shape or form," he said.

Donna Kreutz, communications manager for Intergroup of Arizona, said she fully expects the physicians to remain in practice here.

"We don't expect large numbers of doctors to leave the market in Tucson," she said.

The Thomas-Davis Medical Centers are owned by FPA Medical Management, Inc. Cydney Hubbard, chief operating officer for Thomas-Davis, said FPA is facing financial difficulties. It is now working to develop a plan to work out those problems, she said.

As part of that process, FPA has identified Thomas-Davis as a non-core business market, Hubbard said. Therefore, 15 Thomas-Davis Medical Centers are being closed in Arizona, including five here in Tucson.

"Our goal is to keep patients with their current Thomas-Davis physician," Hubbard said.

These physicians have the option to go to other medical groups, develop their own or enter into private practice, Hubbard said. As long as the physician remains in Tucson and with Intergroup, UA employees will be able to keep their doctor.

"Intergroup is trying to get answers as to whether or not doctors will stay in Tucson by the end of July," Ford said.

The UA has 4,500 employees enrolled in Intergroup insurance. Of that, 1,700 chose physicians from Thomas-Davis Medical center. The majority of UA employees have Intergroup insurance, Ford said.

Patient care at Thomas-Davis will continue until Aug. 30, Kreutz said. If a physician decides to leave Intergroup, members will be notified and assisted in choosing another doctor, she said.

"If a patient is in the course of care, he or she will be assigned to someone who will make sure that care is uninterrupted," Kreutz said.

Patricia Hutton, director of human resources at the UA, said many primary care physicians at Thomas-Davis were chosen because of the centers' convenience.

"This is a time of confusion for people. We're just going to have to wait and see," she said.

Robin Torres is a pediatric triage nurse who has been working at Thomas-Davis for three years. She was upset at the short notice the management gave for the closings.

"I'm hoping the doctors will get together and take some of us with them. I think the majority of the pediatric physicians will stay here in Tucson," Torres said.