By Bryon Wells
Arizona Summer Wildcat August 10, 1998

Fired administrator gets new post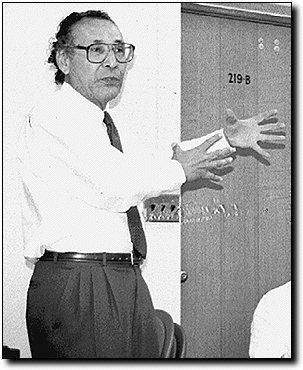 Wildcat File Photo
Arizona Summer Wildcat

Former assistant dean of Hispanic Student Affairs Salomon Baldenegro speaks at a MECHA meeting last year. After the decision was made June 30 to not renew his contract, Baldenegro said he is going to accept an alternate position at the UA.


Arizona Summer Wildcat

Despite frustration at UA administrators for an abrupt decision to not renew his contract as assistant dean of Hispanic Student Affairs, Salomon Baldenegro said Friday he intends to accept an alternative position offered to him by the Dean of Students.

Baldenegro said he was upset by the June 30 decision, but said now "the dust has settled" and negotiations are moving ahead.

"I objected to being fired, but if you're going to take me away from my position, at least put me in a place where I can influence and share my information, my knowledge, my experience - instead of putting me in the closet somewhere writing reports," he s aid.

Baldenegro said he wishes to stay on at the University of Arizona to research minority retention issues and data as a special assistant to Saundra Taylor, Student Life and Human Resources vice president.

"The nature of the job really has not changed because I'm still going to be doing research," he said.

Baldenegro said he and Dean of Students Melissa Vito have negotiated the initial job proposal that would enable him to remain in the network of minority student support. He added that the position will likely be official by Wednesday, and he would be maki ng the same roughly $40,000 salary as before.

Vito said yesterday that she believes they are "really close" to reaching a compromise, and referred to the Wednesday meeting.

"He gave me some stuff that he was wanting to do and it was exactly what we had in mind," she said, adding that Baldenegro will hold a position that allows him to interact with the people his research will affect - students.

The position of assistant dean of Hispanic Affairs involved working as an adviser to students and researching and promoting the retention of Hispanic students at the UA.

Baldenegro said the main reason he was fired from the post was his advocacy on campus.

"What it really came down to is this," he said. "My ideology is not in tune with the changes they want to make in the system. I'm being perceived as a 1960s- '70s- Civil Rights advocate, and they say that that ideology is out of step with where they want to take the university."

Neither Vito nor UA spokeswoman Sharon Kha would confirm nor deny that allegation "on the record," however Baldenegro said Friday that Vito told him his advocacy was a deciding factor.

In July, Vito cited Hispanic student retention rates as a factor in his firing. She said although during Baldenegro's incumbency Hispanic student retention rates have been on the increase, they are still not up to par with the those of Anglo students.

"The retention rates - based on his information - have been improving," Vito said. "But the problem is our board of regents' goals we established to close the gap between Anglo student retention rates and minority student rates."

Baldenegro said he agreed with Vito that the numbers on Hispanic student retention rates are not yet on the level of those of their Anglo classmates, adding that since he began his current position in 1989, Hispanic graduation rates have "kicked off."

"The reality is that the retention rates have improved," he said. "Now granted, the white rate is standard, so we haven't closed completely a gap, but I never claimed to have. What I have claimed and what I do stand by is that that rate has increased."

Baldenegro added that he was not solely responsible for the increase during his tenure and that the same resources, such as tutoring and career services, have been available to Hispanic students before his employment.

"The only different player in the system is us," he said. "And that makes a difference to me."

When students and community members heard about the university's decision on Baldenegro's contract, a rally was staged in the July 3 afternoon heat beneath the Administration building awning.

Community leaders, such as Pima County Supervisor Raul Grijalva agreed that the nature of Baldenegro's contract non-renewal was questionable.

Grijalva said he and other members rallied because they are friends of Baldenegro.

"And that's OK to come and defend a friend who we feel is unjustly being treated, and unjustly being punished because he has a philosophical position in this community," Grijalva said, adding that Baldenegro doesn't "fit" the role that the university woul d place him in.

ASUA Senator Josua Limon looked back on Baldenegro's firing with slightly more vehemence.

"For me, this whole experience has been a betrayal," Limon said. "I don't think that the administration has yet caught a glimpse of how bad this whole thing is until the students come back in the fall."

A national search for a replacement assistant dean of Hispanic Student Affairs is underway, and Baldenegro could not say when his former position will be filled.