By Tory Hernandez
Arizona Daily Wildcat September 17, 1997

Funding options for Union renovations up in the air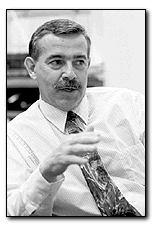 Chris Richards
Arizona Daily Wildcat

Richard Roberts, chief budget officer for the UA, believes a student fee of some kind is necessary for the proper renovation of the Memorial Student Union.


Estimates for a proposed Memorial Student Union renovation are coming in at $60 million, and so far a student fee is leading the list of suggested payment options. But UA Budget Office officials believe there is more than one way to fund the project, and they are working to educate other officials on the choices.

Associated Students President Gilbert Davidson said he will officially open up discussion on a student referendum at the ASUA Senate meeting tonight. The referendum must be approved by the Senate before students can vote on the fee.

"Now, it's a matter of educating the student body on what that money is going to do," he said.

Davidson said the referendum hasn't been worded yet, but since final estimates on the Student Union project aren't available, it will suggest approval of a sum not to exceed a certain amount. There will also be a sunset clause to ensure the termination of the fee once the entire debt is paid.

The fee's maximum limit will be decided in the next week and a half, Davidson said.

"I can't see how we'll get there without a fee of some kind," said Chief Budget Officer Richard Roberts.

Dan Adams, director of the Student Union, said the whole project is a good idea.

"This will benefit the students for years to come. But the support of the students is important," he said.

David Duffy, director of Campus and Facilities Planning, said no plans have been drawn up for construction, but much of the facilities programming has been completed, such as how much space will be needed for kitchens, study rooms and lounges.

The Student Union needs $14 million to $18 million worth of repairs just to make it structurally sound, Roberts said.

If students decide against a fee, Roberts said they will need to rescope the project down to include just the repairs that are needed.

Roberts said other funding options are being discussed and the money may come from a combination of several alternatives.

Academic bonds are one of those alternatives, Roberts said.

Bonds are typically used for non-revenue making sources. According to Roberts, more than half the square footage of the Student Union is for non-revenue related areas such as the TV lounge, study lounges and other campus services.

The alternative supported by Davidson is a faculty and staff fee, in addition to the student fee. The fee would not be mandatory, Davidson said, but staff and faculty could volunteer funds since they are users of the Student Union as well.

Davidson said he had received approval for a fee "check off" on employee and staff checks, making it possible for them to contribute any dollar amount they chose.

Another option would be for the UA Associated Students Bookstore and the Student Union itself to contribute some of their revenues to the project.

Bookstore Director Frank Farias said he had about $2.25 million saved to put toward the project. He said he would like that money to be spent on the bookstore area of the student union only, which would decrease the overall debt for students to pay.

"It (the contribution) wouldn't raise store prices because with increased space, sales would increase and prices may drop because we can handle a large volume of books," he said.

Roberts said gifts and contributions from alumni would also be a viable area to address.