By Annie Hollub
Arizona Daily Wildcat September 17, 1997

Wilson's sound transcends stereotypical barriers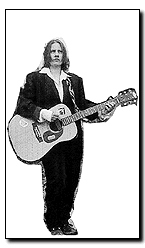 Photo courtesy of Candyass Records
Arizona Daily Wildcat
Kaia Wilson plays at the Sound Addict record store tonight at 7 p.m.

That whole Poe thing a couple of weeks ago got me thinking. I was talking with a friend about what I didn't like about musicians like Poe - pretty solo females who are more well-known for their image than their actual music, which is usually bland and uncreative. "That pretty alterna-rocker" was what the Wildcat used to describe her. My friend made the argument that at least they're out there, their voices are being heard and the fact that they are in the public eye is a good enough reason to respect them. But what about all the other and bands backing them up.
Fortunately for us, Kaia Wilson, one of those musicians who needs to be heard, is playing 7 p.m. tonight at Sound Addict. She used to play guitar for Team Dresch, one of the more well-known girl punk bands right up there with Bikini Kill, and is now going solo, taking on the masses with her acoustic guitar. Sure, you're saying, another one of those lesbian, acoustic-guitar toting angry girls. Stop thinking that, because it's bullshit.
Kaia sings about things like love, cats and cool characters in children's books. It transcends those stereotypical gay-music barriers. The album even proclaims that on the back: "Finally! A dyke album for the whole family!"
Kaia's not just about angry punk rock anymore. Her new album is about soul and about being heard. It's kinda folksy. It's raw and pretty and honest. Too good for the Lilith Fair, which Kaia was asked to join. She declined because she was busy recording the album, but she definitely would have stood out among the other musicians on that tour. Could Sarah MacLachlan or Poe, for that matter, pull off lyrics like: "and some will kick your ass 'cause you're a freak" while getting a full sound out of a plain ol' acoustic guitar? I don't think so. Kaia's sound is of the same quality and genre as Ani DiFranco, powerful yet quiet, stripped down to basic emotional and musical elements.
The show looks to be a good one, just the right kind of excitement for a Wednesday night. Also on the bill are Clove and Huff. If you've never been to a show at Sound Addict, it's a little record store at 714 N. Stone, a couple blocks north of 6th Street. Kaia's touring with Melissa York, also from Team Dresch, who will be playing drums on some songs, and the rest of the set will be just Kaia with her guitar and her incredible voice. It's only a couple bucks and really worth checking out.