By Mary Fan
Arizona Daily Wildcat September 19, 1997

Forum demonstrates women bring 'perspective, experience' to politics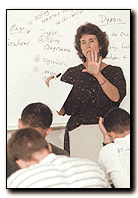 Charles C. Labenz
Arizona Daily Wildcat

Political Science Professor Lyn Ragsdale will be speaking at the Women in Congress Symposium, to be held at Northern Arizona University tomorrow.


The role of women in politics will be the focus of the Women in Congress Symposium to be held tomorrow at Northern Arizona University in Flagstaff.

In a free public forum, panels of academics will discuss trends and figures they have found surrounding women in politics. Political figures will share their battle stories and personal experiences.

Lyn Ragsdale, University of Arizona professor of political science, will be one of the panel members.

"The panels will discuss the difference between theory and practice of women running and serving in office," said Lyn Larson, one of the symposium's coordinators.

For those in Tucson who wish to watch the event without making the trip to NAU, it will be televised live in Room C116 at the Community Campus of Pima Community College from 7:30 a.m. to 8 p.m. Community Campus is located at 1901 N. Stone Ave.

Such political figures as former congresswoman Karan English, current Rep. Matt Salmon and Secretary of State Betsy Bayless will speak at the event.

Part of the forum's purpose is to give the public an up close and personal experience with these public figures, Larson said.

"The main emphasis is that these are people - they are not just pictures on the television screen," Larson said.

The symposium seeks to bring the issue of women in politics before the public.

"It is valuable for the public to see how politics change when you elect women to Congress," said Harriet Young, adjunct professor of political science at NAU and one of the symposium's coordinators.

By having women who have held office relate their experiences, the symposium takes a different approach from the statistical analysis often used in studies examining trends in politics. This is important, Young said, because statistical analyses cannot paint as accurate a picture due to the small number of women in Congress.

The symposium may prove valuable in increasing that number, Young said.

"The more it is seen that women are running the more women will feel encouraged to take the risk and run themselves," Young said.

Salmon is attending the event to show his support for increasing the number of women who choose to run for Congress, said his Deputy District Director Steve Voeller.

"Women bring unique perspective and experience to the political debate," Voeller said.

The symposium organizers also wish to encourage youth to attend the conference and feel comfortable with their government.

"We hope to show that government is not a woolly black beast - it's people doing what they think is best for the people as a whole," Larson said.

The symposium will be held in NAU's Cline Library Assembly Hall.

For $15, audience members may attend an optional luncheon with the speakers. For further information, contact the NAU Office of Public Affairs at (520) 523-6125.