By Jennifer M. Fitzenberger
Arizona Summer Wildcat August 26, 1997

IIF building designed to help all students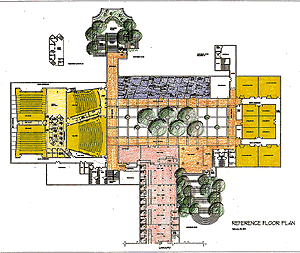 Arizona Daily Wildcat
The design for the Integrated Instructional Facility that was passed by the Arizona Board of Regents will be constructed under the UA Mall in front of the Main Library. The facility is expected to be operational by June 2000.

Many UA students who oppose the recently approved Integrated Instructional Facility have been misinformed as to how it will benefit the university, students and administrators close to the project have said.
"Students envision a dark, underground building just for freshmen," said Melanie Freedman, a family studies senior who in May gathered a list of 200 students in support of the facility. "It's a one stop shop for any UA student."
She presented this list to the Arizona Board of Regents, who on Thursday gave the facility the final go-ahead.
It will host a computer-based Information Commons, a freshman support center and classrooms for intro-level math and English classes.
"It will be a tremendous asset to the university," said Michael Gottfredson, vice president for undergraduate education. "The instructional facilities at this campus are inadequate."
The IIF facility received initial approval from the Board in September 1994 and should be in use by June 2000.
Although the Memorial Student Union renovation project and the McKale Center strength and conditioning facility will also make a financial impact on the university, Gottfredson is surprised the academic building has faced the most opposition.
"Students are not getting what they deserve right now," he said.
Gottfredson added there should be no competition between renovating the Union and building the IIF facility because the projects are separate.
The IIF facility, Gottfredson said, will be funded with academic bonds not to exceed $20 million and through private fund raising.
"Now that we have approval for the project we will go the private sector and say, 'you may want to help us with this,'" he said.
A $10 million classroom renovation project, separate from other endeavors, is also underway.
Although the facility will focus on improving undergraduate education and retaining first-year students, he said it will be an asset to all students.
"We lose the majority of students after their freshman year," said Lynne Tronsdal, assistant vice provost for undergraduate education. "We don't think it should be survival of the fittest."
She said first-year students who have trouble finding support will be able to find counseling and support services in one location.
There is a need for these services, she said, referring to the more than 50 freshmen who visited the First Year Center, located in Bear Down Gym, over the weekend.
"The most important people here are freshmen," she said.
Freedman, who with the Advising Center for Exploratory Students, has worked with undeclared students, said the facility's classrooms, lectures and guest speakers would be a UA selling point.
"I think it is the best thing to happen to the UA," she said. "Some of my friends dropped out of school as freshmen and this building (would have) really helped."
Library Dean Carla Stoffle said the Information Commons will provide all students with computerized library references, online information and a 24-hour study center.
"People will work with students using new technology for a more active student approach to learning," she said. "Students will have the opportunity to work in small groups and use computers to surf the Net."
Stoffle said the first floor of the Main Library will be renovated to mirror the IIF facility's Information Commons.
She said she supports the facility because freshmen will be able to identify with one another, producing more successful first-year students.
"Students are going to need to use this technology in the future to be competitive in the job market," she said. "Plus they will create relationships so they don't feel alienated from the education process."
Although Stoffle said an "abstract" of the facility is difficult to imagine, she said students will be excited once they see it.
"It's going to be gorgeous," she said. "The courtyard will be so tall it will fit eight-foot trees and will be a place where students can socialize."
Gottfredson said the facility will be one of the brightest buildings on campus.
One-third of the University of Arizona's classrooms, he said, including all of them in McCelland Hall, are below grade - located underground.
Gottfredson also said few windows in a high-tech building would reduce the glare on computer screens.
"Academics should come first," Freedman said. "I'd like to see more people graduate."
UNIVERSITY OF ARIZONA
INTEGRATED INSTRUCTIONAL FACILITY
Project initiation approval: September 1994
Will serve 4,500 first-year students
Will house multi-media lecture halls, computerized Information Commons, a freshman support center, exterior spaces for informal study
Physically linked to the north end of the Main Library
Source of funds: Academic revenue bonding up to $20 million and private funding
Should be in use by June 2000