By Scottie Bricker
Arizona Daily Wildcat September 22, 1997

Mistakes and missed opportunities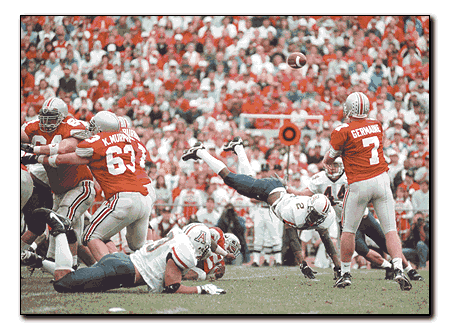 Robert Henry Becker
Arizona Daily Wildcat

Robert H. Becker/Arizona Daily Wildcat Senior Strong Safety Rashee Johnson (2) rushes Buckeyes Quarterback Joe Germaine (7) during Saturday's Ohio State game. UA lost 28-20 after falling behind 21-0 at the half.


Along with careless mistakes, the Arizona football team can now add another item to their list of things to work on: Don't give a Top-10 team a 28-point lead and then try to play catch-up on their home field.

Several crucial penalties and mistakes by the Arizona offense and kicking game helped Ohio State (3-0) survive a fourth-quarter Wildcat comeback and post a 28-20 victory over Arizona (1-2, 0-1 in the Pacific 10 conference) at Ohio Stadium on Saturday, in front of 91,152 fans.

Arizona's scored all 20 of its points in the final quarter, but it was not enough to account for the continued miscues and penalties.

"We are obviously very disappointed by this loss," Arizona head coach Dick Tomey said. "We came here thinking and believing we could win. We still think we can be a good football team."

On the Wildcats' first drive of the game, they drove the ball down to the Ohio State five-yard line, before an intentional grounding penalty on Smith moved Arizona back to the 21. Two plays later, T.J. Rodriquez pulled a 30-yard field goal to the left.

Arizona got the ball back when Chris McAlister jarred the ball loose from Ohio State wideout David Boston and the Wildcats recovered.

The Wildcats' first possession of the second quarter ended with another miscue as Ryan Springston mishandled the snap and ran for only a one-yard gain.

The Buckeyes then marched 34 yards on seven plays, capping off the drive with a six-yard touchdown pass from Stanley Jackson to David Boston.

On the ensuing Arizona drive, Ohio State linebacker Andy Katzenmoyer intercepted Keith Smith's shovel pass on the second play from scrimmage and took it in for a touchdown, giving the Buckeyes a 14-0 advantage.

"That play really hurt us," said Arizona head coach Dick Tomey. "I don't think it necessarily lost the game for us but it didn't help either."

"Honest to God, I never saw him," Smith said. "It was the same play as before when I got my 29-yard run but this time I saw I couldn't make it to the outside so I just tried to shovel it to Kelvin. I don't know where he (Katzenmoyer) came from."

Ohio State added a score late in the first half on a one-yard touchdown plunge by Pepe Pearson, which put the Buckeyes up 21-0 at halftime.

The door was beginning to shut on the Wildcats after the Buckeyes scored early in the second half. Jackson tossed 56-yard strike to Boston and three plays later, Jackson scooted into the end zone from 24 yards out to put his team up 28-0.

Ohio State fans began to file out of the stadium, as it looked to be another easy victory for the Buckeyes. However, the Wildcats had different plans.

Arizona put the ball in the end zone on all three of its fourth quarter possessions to bring the score to 28-20 with just 2:26 to go in the game.

Smith capped off the first drive of the quarter with a 9-yard quarterback draw to put the Wildcats on the board.

The Arizona kicking game failed again as T.J. Rodriquez's extra point attempt was wide left.

Ohio State then drove 43 yards on 10 plays before a field goal attempt by Dan Stultz was blocked by Joe Salave'a.

Smith then found Brad Brennan for 47 yards to the Ohio State 28-yard line.

A few plays later, Smith again connected with Brennan, this time all alone in the end zone on a fourth-down play to cut the lead to 28-13.

The Arizona defense then forced Ohio State to punt. The Wildcats then moved the ball 70 yards on 10 plays as Smith found Jeff Nadeau for the Wildcats' third touchdown in 10 minutes.

Arizona's onside kick attempt failed and Ohio State ran out the clock to escape with the win.

The Arizona defense played well, holding Ohio State, who averages 464 yards of total offense per game, to 292.

"We did everything we thought we could do to them," linebacker Dashon Polk said. "We just gave up too many big plays. That's what hurt us the most."

Chester Burnett led the Wildcats with 17 total tackles, while Joe Salave'a added 11, including three sacks. Mike Szlauko added two sacks as well.

"All in all this is just a disappointing day for us," linebacker Marcus Bell said. "We thought we could win, but I guess we still have some work to do."