By Tory Hernandez
Arizona Daily Wildcat September 23, 1997

New responsibility for UAPD's Seastone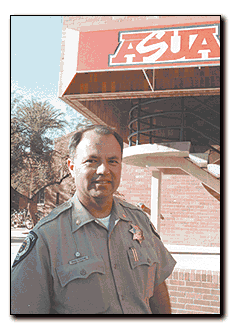 Arizona Daily Wildcat

UA Police Department Cmdr. Brian Seastone


A good cop can be the voice of reason in a heated debate.

Student representatives are banking on that notion with the recent appointment of University of Arizona Police Department Cmdr. Brian Seastone as an ex-officio member of the Associated Students Senate.

"When the senators are debating, he (Seastone) will provide a different perspective because he may have dealt with those issues in the past," ASUA President Gilbert Davidson said.

Davidson appointed Seastone to the new position, in accordance with a provision in the ASUA constitution. The Senate unanimously approved the appointment Wednesday.

The constitution calls for the appointment of a non-voting member to be involved in Senate discussions.

"My major responsibility is to be a resource," Seastone said. "My position is for input other than what the student perspective may be."

Davidson said it was important for the Senate to have as many views on an issue as possible.

He said he chose Seastone because he was willing to spend the time on campus with students.

"I know he will do a good job," he said. "He has always been very involved in student government."

Seastone has been a university employee for 17 years and served as one of two faculty/staff senators during the 1990-1991 and 1991-1992 school years.

"We (UAPD) have had an excellent relationship with ASUA so far, and I hope to continue that," he said.

Sen. Aaron Young said he thought the appointment would be positive for students.

"If you are a student and you come to the Senate, you want to hear as many voices as possible on an issue," he said.

Young added, "He has been in the UA community a while and he can offer insights on things students can't see."

Seastone said he probably won't make every Senate meeting, but plans to be there as much as possible.

He said he hopes to create a faculty, staff and student walk-around on campus.

"We're looking to identify dark areas on campus and to address those issues in a report and see what can be done about it," he said.