By Jennifer M. Fitzenberger
Arizona Daily Wildcat September 29, 1997

AIC may move to UA's neighborhood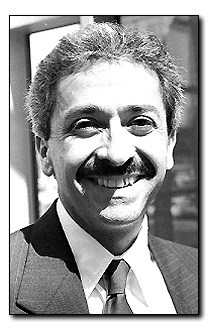 Arizona Daily Wildcat
"We will co-locate at the UA while enrollment is going up and move to a permanent location after that time."
- Celestino Fernandez, AIC executive vice president

FLAGSTAFF - Facing budget problems, the year-old experiment known as the Arizona International Campus of the UA may move next summer to the UA main campus.
Actually, the campus will be "co-locating," said Celestino Fernandez, AIC's executive vice president and provost. He said AIC, which will be housed on or adjacent to UA's main campus, will operate as an independent liberal arts college with separate administration and faculty.
The move, and a name change to Arizona International College, will need to be approved by the Arizona Board of Regents at its next meeting Oct. 30-31.
The board Thursday discussed the issue, which was raised at their last meeting, Aug. 21-22. At that meeting, the board approved an AIC-requested $950,000 loan from the University of Arizona to alleviate a funding shortage.
"The situation is that we're at a point where we have to invest in resources for infrastructures, such as classrooms," Fernandez said. "These are resources we don't have."
He said AIC is in a financial bind because only $2.2 million in state funding was approved by the Legislature. AIC requested $5 million.
The additional money would have helped build more laboratories, dormitories and a small library, Fernandez said.
"Given that we still had these needs," he said, "the co-location was most reasonable."
For the most part, AIC students support the move.
"I kind of like it out there, away from the campus thing, but it is the best thing for the campus as long as we don't lose our identity," said AIC freshman Devin Simmons, who decided to attend the branch campus for its hands-on learning and small atmosphere.
He said he does not think AIC will lose the atmosphere if it remains a separate institution.
The only problem some students have, Simmons said, is with the longer commute from the east side to the main campus.
"Everyone seems to support it except for the parking part," said freshman Israel Campbell.
About two weeks ago the students were given a letter, written by Fernandez, explaining the move, he said.
"At first I was shocked, but you could see it coming," Simmons said. "Most people were really happy, but some didn't like it because the commute will be a pain in the butt."
After its October vote, the board will wait three years to review AIC again, said Regent Kurt Davis.
Last month a five-member sub-committee was formed by the board to consider AIC's situation more in-depth.
"They discussed concerns and issues about how the campus presents itself and about enrollment," Davis said after Friday's meeting.
AIC opened last year at the UA's Science and Technology Park on South Rita Road and Interstate 10 with 48 students.
Over 100 students enrolled this year, and Fernandez expects the number to keep growing.
"We will co-locate at the UA while enrollment is going up and move to a permanent location after that time," Fernandez said. "Right now we're trying to find facilities to maintain our identity."
The sub-committee, however, has not yet decided exactly where the branch campus will be located, Fernandez said.
Committee members include Regents John Munger and Hank Amos, Paul Sypherd, UA's interim president and provost, Fernandez and UA President-elect Peter Likins.
"There has been a commitment on the part of the board to continue a commitment for AIC," Fernandez said. "Having a four-year liberal arts college complements the other four-year institutions."
Davis said he has always supported the idea of a small liberal arts college, but does not feel it will flourish next to the UA.
"If it is going to be in Pima County, the location (at the Science and Technology Park) was the right thing," he said, adding that it was the best utilization of resources.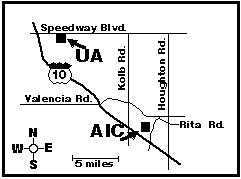 "It will present a new challenge - how smallness and uniqueness will work in the center of a 35,000-plus campus" Sypherd said.
He said AIC can be brought adjacent or on to UA for less than the $500,000 the branch campus pays each year in rent.
"You have to give a new campus a while - you have to give it a fair chance," Davis said.
Fernandez said he is excited about AIC's future because of an expected 65 percent increase in Arizona high school graduates by 2007.
"I think it's (the move to UA) a step forward if we're able to maintain our identity, programs and recruits," Fernandez said. "There will be some challenges, but the benefits clearly outweigh the downfalls."