By Anne Newell
Arizona Daily Wildcat September 29, 1997

MTV invades Maricopa Hall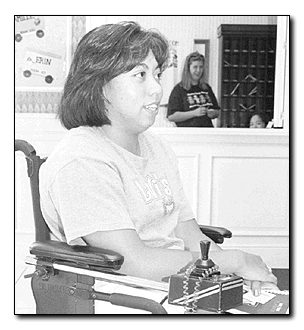 Dan Hoffman
Arizona Daily Wildcat

"It's wonderful that we get some attention from the media." Mayra Ochoa accounting senior


L. Anne Newell

Some UA students will have their chance at stardom when MTV sets up its camera today in Maricopa Residence Hall.

The hall will be used as a forum for the show "MTV Live," with five or six students interacting with MTV VJs (video disc jockey), said Andrea D'Ambrosio, the producer of "MTV Live."

Caroline Mockridge, a representative for MTV, said live filming will begin at 2:30 p.m., but the length of MTV's stay on campus has not yet been determined.

She said the goal of the filming is to be as interactive as possible with the studio audience.

"One of our goals is to connect our viewers to this program," Mockridge said.

She said the viewer kiosks, located at the UA, South Beach, Fla., Smithtown on Long Island, N.Y. and Minneapolis, will all move around at some point.

Today is the only day the university is guaranteed a part of the show, she said. But, she said, pending the results, the location may be used again.

The filming was delayed over a month due to problems with the equipment, the UA's phone lines and another week for rehearsals.

Larry Hoff, owner of TV Arcade, the company running the equipment for MTV, said the problems with the equipment were ironed out last week, but engineers jumped the gun in announcing filming would begin immediately after.

Students who may be part of the show spent last week rehearsing with VJs to get the timing down for the show, Hoff said.

He said there is a slight delay from the filming to the broadcasting and participants need to know how to time the action.

Rehearsals continued through last Friday, he said.

But, Mockridge said delays are inevitable.

"To get something like this up and running definitely takes a little time," she said. "But we're really excited."

Maricopa residents are also excited about the filming, but say they have not been informed of many of the details.

"It's wonderful that we get some attention from the media," said Mayra Ochoa, an accounting senior.

Ochoa said she would love to be on the show, even though she does not know much about it. She said she heard everyone would have a chance to be on the show.

Jennifer Dillon, a biology sophomore who also lives in the hall, said she heard people's names would be randomly chosen.

"I would love to be on the show," she said. "I've been trying to get my picture on their desk all week."

Crystal Keating, a pre-elementary education sophomore, said, "Maybe if we knew more about it, we could get more hyped up about it."

But Keating said she was excited about the prospect of participating in the show.

The system is run through a computer with a small video camera on top, and allows people at different locations to see and hear one another, Hoff said. The images and sounds are transferred between locations through phone lines.

Hoff said the technology will allow a talk show format to occur between various linked locations.

"This is a big step in television," he said. "It allows viewers to be face-to-face with celebrities. It lets people be connected with their television," he said.

Hall Director Penny Woodcock expressed concern on crowds that might gather for the event, and said the hall is working to make the filming go as smoothly as possible.

She said extra measures have been taken to guarantee non-residents are not allowed into the hall, but said she could not elaborate on those measures.