By D. Shayne Christie
Arizona Daily Wildcat September 29, 1997

Paving Along The Road Less Traveled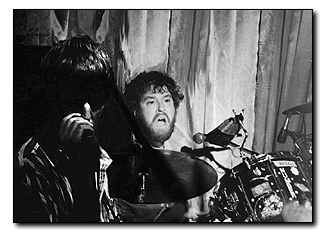 Robert Henry Becker
Arizona Daily Wildcat

Pavement's Steve Malkmus sings as Steve West beats on the drums at Club Congress, Wednesday. Pavement played older lo-fi songs early in the evening, as their PA system went bad, but then entertained the crowded folks with some favorites and songs from the new album, Brighten The Corners.


"You can't enjoy yourself, I can't enjoy myself," is one my favorite lines from "We Dance," the first track on Pavement's 1995 release, Wowee Zowee.

A friend introduced me to Pavement right around the time Wowee Zowee came out, and I can still remember him saying, "That is so great - he actually says he can't enjoy himself anymore."

The line is potent and simple, unlike other lyrics from frontman Steve Malkmus, which are often convoluted and strange.

For example: "One of us is a cigar stand. And one of us is a lovely blue incandescent guillotine." Or the classic song title, "Grave Architecture." Wowee Zowee ranks up there as one of my most listened to albums. That's why I was so eager to get my butt down to Club Congress Wednesday to check out Pavement up close and personal in support of their latest album, Brighten The Corners.

The show was opened up by Tucson's Wise Folk Malcontent, and Geraldine Fibbers from L.A.

I missed Wise Folk almost entirely, but lead singer and guitarist Andy Gardner said it went well. They got a new stringman - a viola player - to replace their cellist.

I used to play bass with Wise Folk when Gardner was still pushing his new CD "Shoebox," but I like their new(er) sound: more ethereal, with strings, droning guitar and better arrangements. It's further from rock 'n' roll and that is good (in this case.)

Geraldine Fibbers were blistering, loud and weird. According to lead singer and guitarist Carla Bozulich, they have plenty of quieter, prettier stuff, but decided to make a racket because it's "funner."

Their sound was interesting, but stylistically, not completely original. With an upright bass, a violin, two guitars and drums they made a thunderous sound.

Now, Congress shows are often iffy. Because it's such a small place, when they pack 500 people into the club like sardines it's a real feat to mix the sound just right, so everybody - including the band - can hear everything.

Especially when the sound system farts out on you.

Doubly so when you have two drummers playing together.

Pavement is made up of five guys, Malkmus on lead vocals and guitar, Mark Ibold on the bass, Steve West on drums, Scott Kannberg, aka "Spiral Stairs," on guitar, and Robert Nastanovich on keys, percussion and sometimes a second drum kit.

"The sound wasn't what it could've been," Malkmus commented after the show. "There was a problem with the PA, but we still did our thing - when I looked into the crowd it looked like there were a lot of cool people here. It was a good show."

Unfortunately, though, the sound problems shone through. Because of that, it was a show worth seeing, but also disappointing.

Pavement have a cool sort of lo-fi, raw feeling to their music, which comes through powerfully live. There were times at the show when the songs would completely fall apart, and then surprisingly come back together.

That's a hard trick to pull off.

Pavement makes it look easy, because they are up there having fun. As Malkmus said, they're "just trying to make something beautiful."

They seem to have succeeded

As for the band's decision to come through our oft neglected town (city, whatever), Scott "Spiral Stairs" told me that they always meant to play Tucson; that he likes it here.

Scott attended ASU, but said Tucson has a "hipper" feel and a "cooler vibe," than Phoenix.

No shit.