By Jennifer M. Fitzenberger
Arizona Daily Wildcat October 1, 1997

Campus welcomes new president with big bash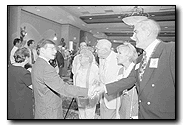 Ryan A. Mihalyi
Arizona Daily Wildcat

UA President Peter Likins (left) and his wife, Pat (far left) meet Ora DeConcini-Martin, Morris Martin, Daniele Thu and Steve Thu (center to right). The president mingled with over 700 community members in attendance at the reception to welcome him to the UA, yeterday at the Marriot University Park.


Over 700 students, faculty and members of the community gathered yesterday to welcome Peter Likins, the 18th president of the University of Arizona.

"I've come here to do a job - I've come here to join a community," Likins told a wide-eyed crowd at the Marriott University Park, 880 E. Second St.

"Thank you for your human welcome today," he added.

As of today the 61-year-old Likins is the University of Arizona's new president.

UA cheerleaders and pep-band members playing "Bear Down Arizona" greeted the hundreds of people who stood in a block-long line to shake Likins' hand.

"He will be one of the greatest presidents we've ever had," said Jonathan Schmitt, UA first-year law student and former search committee member. "He is a leader, he is inspirational and he understands university constituents."

Schmitt, last year's Arizona Board of Regents student member, said Likins will be accessible to students.

"I feel it is important to have administration welcome their new leader, but it is important for students to as well," said Tara Taylor, Associated Students administrative vice president. "All the students should be here - he's our decision maker."

Michael Gallagher, an aerospace engineering junior who attended the ceremony, said he has heard nothing but good things about the new president.

"I heard he did a lot at Lehigh," he said. "I'm expecting a lot of good things here."

Likins, amidst a roar of laughter and applause, was given a UA sweatshirt and tie from the university.

Members of the regents and the Presidential Search and Screening Committee said they are confident they chose a president who will work well with students.

"He's good in the political arena. He has good management skills and he's a good motivator," said Hank Amos, regent and search committee member. "It is what the university needs at this point."

Likins, who was chosen July 22 to be former UA President Manuel Pacheco's successor, had been president of Lehigh University since 1982.

"You have to be a successful president to be anywhere for 16 years," said Regent John Munger. "They (Lehigh University) loved him - they did not want to let him go."

He told the crowd Likins will be the president to lead UA into the 21st century.

"Our task was to find someone to take this institution to the next level," said Munger, also a search committee member. "I'm proud to tell you we have found that person - he is Peter Likins."

For the first time, Likins introduced his wife, Pat, his 29-year-old daughter, Krista, and his 10-month-old grandson, Christian, to the university community.

"I think he'll do a great job (at the UA)," said Krista Likins, who was rocking her son in a stroller. "Kids at Lehigh thought he was fantastic - and Christian digs him, too."

She said the family spent three days, driving more than 800 miles per day, moving to Tucson two weeks ago.

Peter Likins said he is proud to have a chance to put his mark on the university.

"It's a student-centered research community," he said. "It is my intention to make it increasingly so."

Paul Sypherd, UA provost and interim president since July, said he expects today's transition to go well.

"He (Peter Likins) is going to have a lot to learn, but it will be an easy transition," he said.