By Michael Jacobs
Arizona Daily Wildcat October 3, 1997

Dorm dwellers finally connected to cable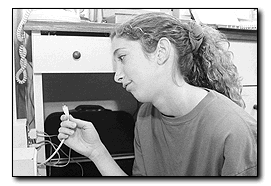 Dan Hoffman
Arizona Daily Wildcat

Environmental sciences freshman Gina D'Amato looks dejectedly at the cable TV jack in her dorm room. Despite yesterday's installation of cable in UA dorms, this Maricopa resident's service was still off-line at 5 p.m.


Residence hall residents have had a lot more channels to surf since cable television arrived Wednesday in the UA's dorms.

"Cable is fun," said Sapna Sopori, a veterinary science sophomore from Yuma Residence Hall.

"But it's a really bad idea to have it in your room, because you don't get any work done," she added.

Only 300 campus dorm rooms have signed up for the cable service, which is provided by Satellite Management Services. About 2,000 students live in residence halls.

Assistant Director of Residence Life Steve Gilmore chalked that up to late marketing campaigns.

"In the future, we would provide SMS with an opportunity to send out fliers in July, before students get here," Gilmore said.

Some students said the price was the reason for such a low count.

"Cable's too expensive for what you get," said Ryan Forrey, a pre-pharmacy sophomore also of Yuma Hall.

" I know of one or two people in this whole residence hall who have cable," he added.

Chemical engineering freshmen Tom Escobedo ordered SMS cable but agreed nonetheless.

"I was looking forward to an opportunity to have cable, but one drawback is that it's so expensive," he said. "I thought at least that we would get a student discount."

Still, residence life head James Van Arsdel said he was pleased with the recently inked vendor deal with SMS.

"I've been here for 11 years, and its been a goal of mine every year," Van Arsdel said. "We anticipated that the vendor was going to be TCI (Tucson Cablevision), but that fell through."

He added the university then had to file legal documents with the Federal Communications Commission to become the official cable operator, a request the FCC accepted in July.

Van Arsdel said that the $832,000 cable installation was funded by money that had accumulated over the years in the Residence Life fund.

Basic cable, which includes 20 channels, is provided by the university for free.

Expanded basic services provides channel surfers with 36 more stations for $26.70 a month or $80.25 per semester. The fee for the entire academic year is $168.53.

Premium channels, such as HBO and Showtime, are available at higher rates, Gilmore said.