By Tressa Girodo
Arizona Daily Wildcat October 3, 1997

Wildcats take steps toward consistency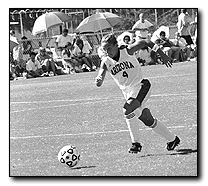 Leigh-Anne Brown
Arizona Daily Wildcat

Arizona junior forward Nikki Jones makes a run on the ball during the Wildcats' match against Creighton last weekend. Jones, one of the inaugural players still on the team, along with her teammates, are one win away from tying the season record of six wins that they had in 1995.


At 5-3-1 overall and 0-1-0 in conference play, the Arizona women's soccer team is at a point in the season to evaluate where it's are now and where it is going.

"My expectations coming into this season were game-to-game, and that is how we've played," head coach Lisa Fraser said. "We've won some games we should have and lost some we shouldn't have, but we're playing consistently good soccer.

"We're taking those steps necessary toward becoming a good soccer team."

The Wildcats are in the second half of a seven-game homestand, which has been successful so far with Arizona winning three of four. Arizona is one win away from tying the season-best six wins in a season.

Tonight the Wildcats will face Tennessee, the first meeting between the two teams, at 7 at Murphey Stadium.

The Lady Vols slipped to 5-4 after losing to Kentucky and Vanderbilt last weekend.

In only their second season the Lady Vols have started their season with much improvement, returning all eleven starters. Senior Debbie Markovich leads Tennessee with four goals and four assists.

With no prior history against the Lady Vols, Arizona coaches only have statistics and a year's worth of records to scout. The Wildcats will not focus on stopping any particular player this weekend, but will aim to slow down the entire offensive attack.

"In practice this week we have been working on maintaining our solid defense," Fraser said. "Our one on one skills will be key in shutting down the offense."

Sunday, the Wildcats play Loyola Marymount, which is familiar territory for the Wildcats. UA leads the series 2-0, winning the last match 2-1 on Sept. 4, 1995.

In the program's fourth year, the Lions stand at 5-2-0 overall, winning four of its last five matches.

"In the past, the games have been tough matchups," Fraser said. "We are expecting a tough game again this weekend."

Since the last meeting with UA, the Lions acquired new head coach, Gregg Murphy, who has made some recent adjustments in the LMU style of play.

Arizona coaches have noticed the improvement, stating that LMU has been good in the past and only getting better with its new coach.

"We are getting ready for them to play a faster game on Sunday," Fraser said.

This week Arizona has focused on getting early crosses into the box which would give the Wildcats a chance to get around the defense.

Getting the cross into the box ahead of the defender will allow UA to beat the offsides trap, which the LMU defense likes to use.

"We're going to face two tough teams this weekend," Fraser said. "Tennessee has a good record, and they're kind of where we're at right now. Loyola Marymount is playing good soccer right now. This is definitely going to be a tough weekend for us."