By D. Shayne Christie
Arizona Daily Wildcat October 6, 1997

Proposal would create Arizona Student Media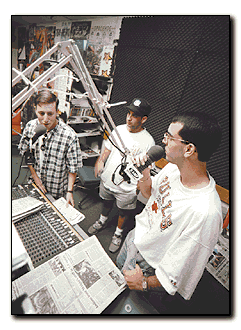 Tanith L. Balaban
Arizona Daily Wildcat
Bill Wagner (left) a communication senior and sports director at KAMP along with Mike Board, music director and journalism senior, hit the airwaves yesterday afternoon at the KAMP studio. The on campus student run radio station is seeking to join Student Publications.

KAMP Student Radio is discussing the possibility of joining the Department of Student Publications, to form a new group called Arizona Student Media.
The department, which produces the Arizona Daily Wildcat and the University of Arizona Student/Faculty/Staff Directory, among other publications, would take in the station without altering its current format, according to a proposal drafted by Director of Student Publications Mark Woodhams.
"Sometimes things come together just because it is a good idea," Woodhams said.
"We've been discussing it a lot - we want to do it. It looks like we are going to do it. I think its going to help KAMP and the Wildcat and the community by having one media source," said station manager Adelai Wilson.
According to the draft proposal, both groups would benefit financially from the new arrangement.
"Package ad deals may bring in more revenue," Woodhams said.
Last spring, students voted to add a $1 fee to all tuition bills to pay for a new KAMP antenna.
More than 75 percent of students who voted supported the fee.
KAMP wants to use the money, which will be collected over three years, to purchase an FM frequency, according to the Wildcat.
KAMP had planned to transmit on an FM frequency by spring 1998. However, Wilson said it is unlikely all the details will be worked out by then.
Woodhams said KAMP will be able to draw more sponsors if it has more range.
Currently, the station is difficult to pick up.
"More range means more opportunity," Woodhams said.
The proposed move, he said, is still little more than a blueprint.
"Overall, you've caught us at an extremely premature point in the discussions," he said.
KAMP's current status as a non-commercial station means the station can only seek sponsors as underwriters and are not permitted to run commercials, Woodhams said.
"(In underwriting) the tone has to be more moderate," he said, noting the Federal Communications Commission has strict rules for non-commercial stations.
Because the station currently has a limited range there are few KAMP sponsors, said David Davis, assistant sports director for the station.
Wilson estimated KAMP makes $200 a month from underwriters.
"I think this all kind of hinges on them getting that transmitter, if they don't then it is a moot point," said Wildcat Editor in chief Todd Hardy, who is familiar with the proposal.
Before KAMP can get a new transmitter, the $1 per-student fee must be approved by the Arizona Board of Regents.
Dean of Students Melissa Vito said KAMP is working with student government to get the proposed fee on the next regents agenda.
"I think they really do need the antenna. It is just really hard for them to become a serious station to the campus without it," she said.
Vito said the proposal for KAMP to join Student Publications is a good idea, noting the advantages of an all-encompassing student media center. "The reality is that Mark Woodhams did work with student radio in his previous position," she said.
Vito said with Woodhams at the helm, KAMP has the potential to grow.
Dan Maxwell, assistant director of Student Unions, said KAMP operates well under the University Activities Board. He said KAMP, which has grown to over 100 members, has "more opportunity to grow as a radio station," under the new proposal.
Davis also felt the move from UAB to Student Publications would be advantageous to KAMP.
Davis said access to The Associated Press sports and news wires, as well as the possibility of more money would mean a "better situation," for KAMP.
KAMP has no problem with the University Activities Board, the organization that KAMP currently falls under, Michael Board, KAMP's music director, said.
Davis disagrees.
"Our relationship with UAB has gotten better in the last 18 months, but in my opinion we never got the respect or credit we deserved," he said.
Wilson said the main difference between UAB and Student Publications is that UAB rarely got involved with KAMP's internal decisions. With advertising dollars hinging on KAMP, it would be hard for Student Publications "not to get involved," he said.
According to the proposal a media board comprised of students would be formed to oversee the operations of the Wildcat and KAMP.
Wilson said he fears the media board may have too much say in KAMP.
"UAB has let us operate pretty freely, and the media board will get involved," he said.
Despite freedoms under UAB, Davis cited financial woes as a sticking point.
"We need more money, we've been running on a shoestring budget," he said.
KAMP receives just $3,300 a year from UAB, the Wildcat reported last November.
KAMP also has trouble getting the campus to tune in, according to some students.
Dan Marthaler, a mathematics senior, said he is unable to pick up the station in his truck after driving only seconds away from campus.
Tom Marthaler, a physics senior, had similar complaints. "It needs to expand so you can hear it off campus. They need to push it, there is no advertising ever," he said.
Despite a smattering of fliers, and disc jockeys on the Mall during lunch, juniors Ashley Walters and Becky Heath did not know there was a student radio station.
Both said they have never tuned in.
"I think if they advertised more maybe, I don't even know what station it is," Heath said, who is majoring in communication. Walters, who majors in retail, agreed she would probably tune in if KAMP had a stronger signal.
Biology Junior Rob Boyle said he can't pick up KAMP at all and Elaine Enriquez, an English sophomore, said the last time she tuned in was 2 years ago. Enriquez also said the station needs to promote itself better.
Boyle thought KAMP could be hurt by a move to Student Publications.
"The Wildcat - some people have real polarized opinions on that," he said.
Wilson said KAMP is still sitting the fence on the proposed move. "I can speak for myself and I think it's a good idea," he said.
"For KAMP to succeed it needs to be heard," Vito said.