By Tory Hernandez
Arizona Daily Wildcat October 7, 1997

Likins urges students to stop fighting IIF, focus on new projects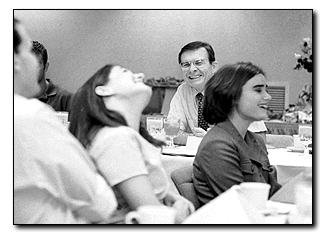 Robert Henry Becker
Arizona Daily Wildcat

(From left) Benjamin Graff, Stacey Higgins and Leslie Hunter, of ASUA, listen and laugh at something new UA President Peter Likins said during a welcoming lunch yesterday afternoon in the Memorial Student Union. Likins and student leaders discussed university concerns, with the hope of both administrators and students working together to solve problems in the future.


New UA President Peter Likins said a proposed underground freshman center was a done deal and called on student leaders at lunch yesterday to concentrate their energies elsewhere.

The Integrated Instructional Facility, which would be built under the UA Mall and house many first year classes, has been an issue of contention between administrators and student leaders over the last year. It received final approval from the Arizona Board of Regents in August.

"As far as IIF, that train has already left the building," Likins said.

Likins told the 30 campus leaders gathered in the Memorial Student Union's Tucson Room to instead focus on projects that they can influence, like the new Memorial Student Union.

He said any new building needs to meet the needs of students.

"The facilities are here to facilitate learning," he said. "They should also facilitate a sense of belonging, especially with freshmen. It's part of their family and their community," Likins said.

The lunchtime crowd included leaders from the Associated Students, the Arizona Daily Wildcat and other campus groups, including honoraries, advisory panels and university clubs.

Likins said that communication between the administration and the student body were high priority.

"Every president has to understand that they are here to serve the students," he said.

"I will spend time communicating with students somehow," he said. "The 'how' is always the challenge."

Likins explained his first few weeks will be punctuated by meetings across campus and the Tucson community.

"My fear is that everyone's expectations about me will soar and I just won't be able to meet those expectations," he said. "If I am able to find the time to be with people, we will meet."

Tim Smith, Chain Gang junior honorary member, attended the lunch and said he identified with Likins.

"He understands student issues and relates well to them," he said. "He is a realist, not a dreamer."

Benjamin Graff, ASUA assistant special events coordinator, agreed and said Likins is what he is looking for in a university president.

"He seems to be an administrator that wants student input and student power," he said. "He's putting himself in a position to be comfortable with the student body."

The new president also fielded questions from attendees on issues including campus diversity and students with disabilities.

"It is essential to accelerate the pace of change in America and the best place to start is on a university campus," Likins said.

"Young people must prepare themselves for a world which is truly multicultural and multilingual."

Likins also affirmed his commitment to multicultural university resource centers, like the African American Cultural Resource Center or Native American Resource Center.

"You may be constrained with your resources and you won't be able to do everything you want to do," Likins said, "but you must not be extinguished."

ASUA President Gilbert Davidson said the event's purpose was twofold, "To welcome President Likins and discuss ways to improve the university."

Likins said he has been impressed with the students of this campus so far.

"The first thing I noticed was the friendliness of students," he said. "I've gotten smiles, hi's and welcomes all week."