By Scottie Bricker
Arizona Daily Wildcat October 10, 1997

Wildcats face uphill battle against Stanford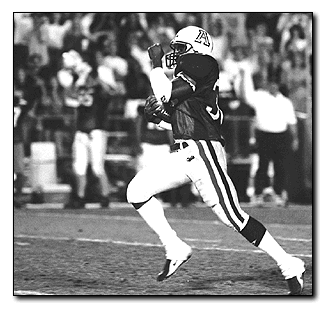 Charles C. Labenz
Arizona Daily Wildcat
Sophomore running back Trung Canidate outruns the San Diego State defense last weekend. Despite an ankle injury, Canidate said he expects to play in tomorrow's game against Stanford.

As the old saying goes, "To be the best you have to beat the best" and the Arizona football team will get the opportunity to beat one of the best teams in the Pacific 10 Conference when they host the Stanford Cardinal tomorrow night at 7:21 in Arizona Stadium. The game will be televised on Fox Sports.
This marks the first meeting between the teams since 1994 when the Wildcats defeated the Cardinal 34-10 in Palo Alto. Arizona has won the last four meetings between the schools.
The Cardinal comes into the game ranked 16th in the country and tied for first place atop the conference standings at 2-0 and boasts a load of talented players on both sides of the ball.
"Stanford is the best team we have played overall this season," Arizona head coach Dick Tomey said earlier this week. "They are a very capable team and much improved from years past."
Stanford's uprising is mostly due to the hiring of head coach Tyrone Willingham, who has compiled a 14-9-1 record over his first two seasons, including a 38-0 trouncing of Michigan State in last year's Sun Bowl.
"He has changed their entire personality up there," Tomey said of his counterpart. "They have also got a strong group of seniors that lead their squad on and off the field."
The Cardinal is led by quarterback Chad Hutchinson and tailbacks Mike Mitchell and Anthony Bookman.
Hutchinson, who doubles as a pitcher on the Stanford baseball team in the spring, has piled up 1,196 yards passing while completing over 60 percent of his passes. He has also thrown for seven touchdowns and five interceptions.
In Mitchell and Bookman, Willingham has one of the most potent backfield duos in the country. The two backs have combined to carry the ball 158 times for 903 yards and eight touchdowns.
Comparatively, the UA starting backfield of tailback Trung Canidate and fullback Kelvin Eafon is just trying to get healthy. Both were injured and didn't finish the game in last week's win over San Diego State. Canidate, who severy sprained his right ankle, and Eafon, who suffered a shoulder injury, didn't practice in pads all week. Canidate said at practice that they both expect to play on Saturday.
"They have two very talented backs to work with," Tomey said. "There is so much more you can do when you have two different guys who can run the ball."
The newly explosive, but yet to be tested, Wildcat offense will face a Cardinal defense that is giving up an average of 359 yards and 25 points per game, placing them near the bottom of the defensive statistical categories.
They do however have an All-America candidate in linebacker Kailee Wong, who is second in the conference in sacks behind Arizona's Joe Salave'a.
Arizona looks to feed off last week's victory over San Diego State in which the offense erupted for 495 yards and 31 points, their biggest output of the season.
The Wildcats will be led by redshirt freshman quarterback Ortege Jenkins who will be making his second career start, after winning his first last week against the Aztecs.
"I am going to help him stay as focused as possible and keep his head in the game," sophomore quarterback Keith Smith said.
Smith will not start for the second straight week due to a shoulder injury he suffered during the UCLA game. He will however be in uniform and be available in an emergency.
Stanford at Arizona
(2-3, 0-2 Pac-10) (4-1, 2-0 Pac-10)
When: Tomorrow night at 7:21.
Where: Arizona Stadium.
TV/Radio: The will be televised live by Fox Sports and broadcast on KNST (AM790).
What: The first meeting between the Cardinal and the Wildcats in three years ... Redshirt freshman Ortege Jenkins will start his second straight game at quarterback for the injured Keith Smith ... Stanford comes into the game on the heels of a 33-15 win against Notre Dame ... Arizona is undefeated at home this season.