By Tressa Girodo
Arizona Daily Wildcat October 10, 1997

Jones to meet rival for one more go-around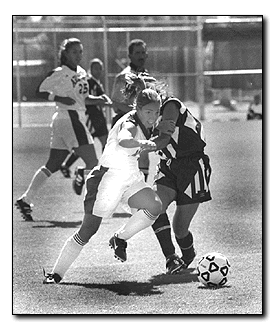 Leigh-Anne Brown
Arizona Daily Wildcat

UA forward Nikki Jones fights for the ball against a Loyola Marymount defender in Sunday's game. Jones ends a longtime rivalry against an old friend tonight as the Wildcats host Montana.


Win or lose, UA junior Nikki Jones is going to be disappointed after tonight.

Jones is facing her long-time friend and competitor for the last time in tonight's match against Montana at 7 at Murphey Stadium.

For the past 10 years, Jones has faced the Grizzly's Lisa Oyen at least once a year.

Growing up Oyen, a 5-foot-8 senior defender, played for Oregon City High School, while Jones played forward for rival Canby. The rivalry began long before high school though.

Since Jones was 10-years-old, she and Oyen have literally gone head-to-head.

Whether it was high school or club teams, the battle was always fierce. Jones triumphed when it counted however, leading her high school team to four consecutive state titles from 1990-1994.

Jones may not have been a prep star without Oyen. She had to dig deep into her repertoire of moves to get by Oyen, who has always made it her personal goal to stop her.

"It is always a battle when we play each other," Jones said. "Over the past ten years the games have always been hard fought and exciting."

Since college started, Jones hasn't had the same results as her high school days. Oyen, who also runs track for the Grizzlies, anchored the Montana defense that shut down Arizona in the last meeting.

The Wildcats opened their 1996 season at Montana, starting the season with an embarrassing 7-1 loss. Oyen scored her lone goal of the season in that match.

"That was our worst game of the season and their best game," Jones said. "I was really surprised by them, we've had close games before that."

Jones is referring to the previous matches against the Grizzly's when Arizona won 2-0 in 1994 and lost 3-2 in 1995.

This week the Wildcats have worked on maintaining a high level of intensity for the entire practice, which was a problem during last Sunday's 2-1 loss to Loyola Marymount.

"We were a mess on Sunday," Jones said. "We had no chemistry, we weren't having fun, and we weren't getting along with one another."

Montana is just as good as the last time the team's met.

"They could be the fastest team we will face this year," senior defender Jen Ginsberg said.