By Mary Fan
Arizona Daily Wildcat October 15, 1997

Anthropology professor, author dies at age 43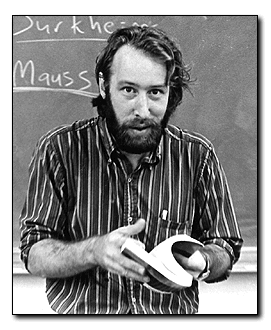 Arizona Daily Wildcat

Daniel Nugent


A UA anthropology instructor, known for his expertise in the politics and people of rural Mexico, died Sunday. He was 43.

Daniel Nugent, assistant professor of anthropology, suffered a stroke Saturday morning. He was taken to Tucson Medical Center, where he died the following day.

"It was completely unexpected," said Nugent's brother Steven. "He hadn't been ill at all."

Nugent's untimely death also shocked his UA co-workers.

"It was a tragic surprise," said William Longacre, head of the anthropology department.

Prior to his death, Nugent taught a graduate seminar on Marxism and anthropology, as well as a class on the anthropology of rural Mexico.

His students said they will sorely miss Nugent's style as instructor.

"He challenged us and the way we were thinking and he had a great sense of humor," said Marcia Brenden, an anthropology, language, reading and culture graduate student.

"He was more than a professor, he was a friend," she added.

Nugent received his doctorate in anthropology from the University of Chicago in 1988. He was a lecturer for two years at the University of Texas at Austin where he also helped direct the Mexican Center at the Institute of Latin American Studies.

He joined the University of Arizona as an assistant professor of anthropology in 1990 and was elected as a fellow of the American Anthropological Association in 1991.

"It's just a tragic loss to anthropology," Longacre said. "He was a brilliant anthropologist."

Nugent was also a musician, author, playwright and editor.

He authored Spent Cartridges of Revolution, an anthropological history published in 1993, and edited Rural Revolt in Mexico and U.S. Intervention, scheduled for publication in 1998.

He was also an editor for the Journal of Historical Sociology and Critique of Anthropology - both quarterly academic journals.

Nugent helped write the play, "13 Days/Los Frece Dias: The Zapista Uprising in Chiapas" which was on tour nationwide from October 1996 to March 1997.

A guitarist, Nugent also played in a trio which supplied music for the Borderlands Theatre production of "A Tucson Postovela."

He was cremated in a private family ceremony and is survived by his wife Eba; and three children Carlos, 7, Gabriela, 10, and Camilla, 12.