By Kristen Davis
Arizona Daily Wildcat October 17, 1997

UA rewinds to keep moving forward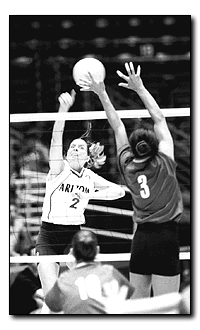 Nicholas Valenzuela
Arizona Daily Wildcat

UA outside hitter Michelle Fanger tries to bypass a block by a Washington State defender.


Reviewing the videotape of its loss to Stanford from last weekend could have been the best thing the Arizona volleyball team did this week in preparation for its weekend matches.

The Wildcats (12-3 overall, 4-3 in the Pacific 10 Conference) watched the tape of the match Monday. They lost to the defending national champions in four games, but put forth one of their better performances of the season.

"Every time I think about it, it drives me crazy because we had the best opportunity to beat them. Seeing ourselves on tape confirmed what I already felt," senior Michelle Fanger said. "A lot of times you watch tape and get a lot of negative feedback. Watching the Stanford tape was a good way to look at what we're doing well and concentrate on magnifying those things.

"We were in a stand still (before the Stanford match) then rose our level of play. Once you go up you're there and you can't imagine going back because you're in such a groove."

It remains to be seen if the Wildcats can continue to sustain their play in weekend matches at McKale Center. They meet Oregon State tonight at 8 in front of what is expected to be the largest volleyball crowd in school history thanks to the crowds planning to stick around for the Arizona basketball team's Midnight Madness. The Wildcats face Oregon tomorrow at 8 p.m.

"We had been at a plateau for a long time," UA coach Dave Rubio said. "I knew eventually if we worked hard enough we would get off and reach another plateau at a higher level."

The unranked Oregon schools may not pose the same threat as most of the Pac-10 teams, but the No. 15 Wildcats are not about to take either school for granted.

"We have to guard against not preparing in our minds or being inconsistent with preparation," Rubio said. "The teams in our conference below us are still good enough to beat us."

The Wildcats have a good chance to catch up to the Washington schools which are slightly ahead of them in conference standings with 5-2 marks. The Huskies and Cougars host Stanford - which has yet to drop a conference match - this weekend.

Arizona's leadership, which includes five seniors, should help in that department.

"It's been said so much that it doesn't need to be said. We've learned not to look past teams," middle blocker Keisha Johnson said. "(Our focus) is beating them quickly and efficiently; playing them like they're a Stanford or Southern Cal."

The Beavers (10-9, 2-5), who are led by outside hitter Pia Ahlengard's 3.84 kills per game, have suffered a few heart-breaking losses to top conference teams, and they always seem to come out tough against the conference's elite.

The Beavers dropped a five-set match to then-No. 6 Washington State last month. On Saturday, Oregon State took the Bruins, then ranked No. 21 in the country, to five games as well.