By Alicia A. Caldwell
Arizona Daily Wildcat October 21, 1997

Crossing Paths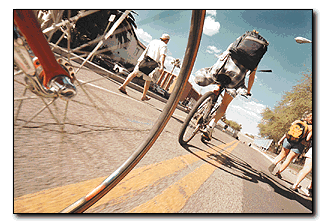 Chris Richards
Arizona Daily Wildcat

Campus traffic can flow smoothly or it can be utter chaos. Bicyclists and pedestrians pose a significant threat to each other, while those on wheels have the added disadvantage of facing a fine if caught in violation of traffic laws.


Pedestrians are the main obstacles to campus bicyclists - or at least that's what some bicyclists say.

While campus bicycle paths serve thousands daily, some of those thousands are pedestrians weaving through traffic on their way to Dawg Daze.

"My biggest problem is riding through that mess of people at 11 a.m. in front of the Union," said David Priniski, a music freshman.

And Priniski is not alone in complaining.

"Pedestrians are always on the bike path," said bicyclist Kelley Carpenter, a media arts sophomore.

"Pedestrians can maneuver out of the way a little easier, but we have the bike," marketing sophomore Jeremy Greene said.

Yet bicyclists are only one side of the equation.

"When it gets really crowded they (bicyclists) don't stay in the bike lane," said Jessica Boartfield, an undeclared sophomore.

"They come up on the sidewalks."

While both bicyclists and pedestrians complain about on campus traffic, walkers have one advantage bicyclists don't have - traffic laws.

Students on bikes should be aware that transit laws apply to them as well as automobiles, said Larry Barton, associate director of parking and transportation services.

Bicyclists are just as subject to fines as car drivers, he added. "Bicycles are ruled as vehicles."

While a bike violation will not affect driving records, offenders may face a monetary fine.

Students running a stop sign can receive a $61 fine. Traveling the wrong way down a one-way street costs $40.

"Bicycles are required to follow the same rules as a motor vehicle," Barton said.

Just like cars, bicycles must also yield to pedestrians in a crosswalk, he said.

"A bicycle needs to come to a halt to allow a person to cross over (the bike path) or they can swerve depending on traffic," Barton said.

"Pedestrians just don't look before they cross bike paths," said Sarah Owens, a Spanish teaching assistant.

Creative writing graduate student Susan Rogers said she was unaware of bike regulations.

"I didn't even know I could get a ticket on my bike," Rogers said, adding that pedestrians irk her as well.

"People walking the bike lanes is not helpful," she said.

Barton said the majority of complaints occur at the beginning of each semester, and at these times offenders are generally warned rather than cited.

"We choose not to have to give them (citations) out, if a person can understand safety," he said. "We would rather educate than cite an individual."

Parking and Transportation Services officials and university police are authorized to write bike citations.

A UA architect said he is conscious of campus traffic patterns as he plans the locations of traffic signs, new buildings and how they will affect the existing flow.

Mark Novak, a landscape architect at campus and facilities planning, said he consults UAPD, risk management and parking and transportation services for the general design of the bicycle paths, especially when placing new stop signs.

"We look at the overall circulation of the campus," Novak said. "It (sign placement) is a combination of looking at history of accident reports and safety."

He added stop signs have recently been placed at the corner of East Fourth Street and the bike paths behind the Shantz Building, 1200 E. South Campus Drive.

Students voiced safety concerns and the new signs were added, Novak said.

East Second Street in front of the Harvill Building, 1103 E. Second St., is also a trouble spot, said Melyssa Santa Cruz, an education junior.

Novak said there is no plan to place stop signs at this location.

"We wouldn't want to put in unnecessary stops," Novak said, adding excess signs cause complaints from cyclists.

Barton said students should take precautions while on campus and specifically in high traffic areas.

"It's a small area with a large population," Barton said. "You have a congested campus and people need to use caution."