By John Brown
Arizona Daily Wildcat October 22, 1997

Despite Catch-22, Greeks will not review alcohol policy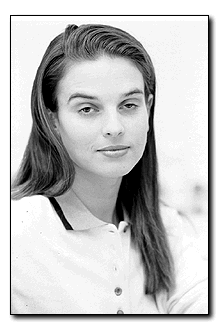 Arizona Daily Wildcat
Julie Poore, coordinator of Greek Life Programs, said no Greek organizations have been cited for GAMMA violations this year.

While UA Greek Life alcohol policies may force fraternities to violate state law when selling beer at parties, a Greek Life official said yesterday there is no plan to amend that part of the bylaws despite an ongoing policy review.
"We want to continue to allow that option (to sell)," said Julie Poore, coordinator of Greek Life Programs.
Proposed rule changes for Greeks Advocating Mature Management of Alcohol, or GAMMA, have not included changing the bylaw that permits organizations to have outside vendors sell beer at parties, she said.
According to Arizona Department of Liquor License Control investigator Michael O'Brien, those same bylaws may encourage Greek organizations to violate state liquor laws.
State law prohibits cash bars in instances where an outside vendor is hired to furnish and serve alcohol at a party through individual bar sales. Outside vendors may only provide alcohol in bulk and provide individual drinks for free.
Last weekend the University of Arizona Police Department stopped a local business from selling booze at a Phi Gamma Delta Family Weekend gathering because the company, Corporate and Leisure Event Productions, or C.A.L., did not have a license to sell alcohol.
But O'Brien said the liquor board will not furnish a special event license unless a party is sponsored by a nonprofit organization or charity.
According to Poore, C.A.L. has been an outside vendor for Greek events in the past.
C.A.L. President Bradley Nozicka said he has never been granted a state special events liquor license because his company is not eligible for one.
"There is no such thing as a mobile liquor license," said Nozicka, who has worked UA events for campus organizations like the President's Club and UA Alumni Association over the past seven years.
He said Monday that he didn't need a license to sell alcohol on campus because he had permission from the university to do so.
O'Brien said even with UA permission, Nozicka would still need a license to sell alcohol.
Problems also arise if a fraternity, as a nonprofit organization, sponsors an event. According to state law, a nonprofit organization, or in this case the fraternity, must be given 25 percent of liquor sales.
However, that is a violation of GAMMA bylaws that prohibit Greek organizations from profiting from liquor sales.
No Greek organizations have been cited for GAMMA violations this year, Poore said, though an effort has begun to tighten enforcement of the alcohol policy.
"I'm not saying everyone is following the policy," Poore said. "We have a hard time hearing about the problems."
Assistant Dean of Students Veda Hunn said the GAMMA bylaws are a student regulated document generated by members of the Greek community.
She said the bylaws "pass through several hands" at the university and are eventually reviewed by the UA attorney's office.
University lawyer Mike Proctor was not available for comment yesterday.
Poore said any changes to GAMMA policy go through the UA Attorney's Office and Risk Management.
Yet O'Brien spelled out the situation in practical terms.
"We would never give a fraternity or sorority a license," he said. "Let's face it, 75 percent of the people at those parties are under 21."