By Alicia A. Caldwell
Arizona Daily Wildcat October 23, 1997

Students open hearts and veins for blood drive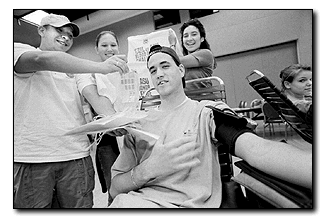 Robert Henry Becker
Arizona Daily Wildcat

Kevin Major, English sophomore, is prepared by Pat Geary of the Red Cross (not pictured), to have his blood drawn. His friend, Jeremy Miller, undeclared sophomore, shows off the apparatus that will be used to collect his blood (at left). Volunteers Megan Stromdahl, pre-pharmacy freshman, and Angela Urbina, communication senior, show off the T-shirt Geary and Miller will receive after they finish donating.


While the Wildcats are trouncing the Sun Devils in the annual UA vs. ASU blood drive, midweek totals were still far behind last year's final count of 1,200 pints.

The University of Arizona is about 100 pints ahead of Arizona State University, but still trailing this year's 1,400-pint goal by about 800 pints, said Vikki Fernette of Red Cross Blood Services.

"If everyone stopped donating today, in two weeks we'd be out of blood," Fernette said. "It's good that we're winning, but we need to bring in 1,400 pints or we'll be in trouble."

Fernette attributed this year's slow pace to a local flu epidemic.

Each year, UA and ASU compete for bragging rights and help the Red Cross receive enough blood to supply area hospitals.

This is the 11th annual challenge - the UA has won six of the past 10.

Fernette said the blood drive, held annually in the Arizona Ballroom in the Memorial Student Union, helps meet the demand of Southern Arizona hospitals.

She said typical blood drives serve 27 hospitals in four counties.

"This is the only place that we are collecting this week," Fernette said. "Normally we have stations all over the region."

Fernette said other donation locations include residence halls and sororities on campus.

Donors are given a T-shirt, cookies and juice for their efforts, she added.

Donor numbers may be down, but some students said giving blood for a good cause outweighs the minor needle prick.

"It doesn't hurt to help out once in a while," said Jeremy Miller, undeclared sophomore.

Business freshman Jayna Meyers agreed.

"I think it's a good cause," she said. "I think it's people's duty."

As students give blood this week, they can also register for the National Bone Marrow Donor Program, which contributes to a national registry of bone marrow donors.

Coordinator Suzanne Powell said students can register as a bone marrow donor when they give blood.

"There is only one needle stick," she said, adding only two extra vials are taken while donating to the main drive.

Her organization is hoping to register minorities so there is a larger pool for patients to search for a marrow match.

"You tend to match in your own ethnic group," she said.

Meyers said she became a marrow donor because "you never know if you could save a life."