By Tory Hernandez
Arizona Daily Wildcat October 23, 1997

ASUA Senate majority passes resolution to support Union fee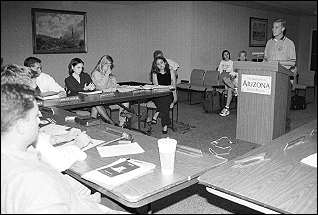 Nicholas Valenzuela
Arizona Daily Wildcat

ASUA President Gilbert Davidson speaks to the ASUA Senate during yesterday's meeting. Davidson urged the senators to speak with the student body and let them know about the referendum.


The ASUA Senate passed a resolution last night supporting a student fee for Memorial Student Union renovations.

"Based on extensive research into the funding options for union renovation the Senate voted to support a student fee," said Gilbert Davidson, Associated Students president. Davidson wrote the resolution.

Students will vote Nov. 18-19 on a $40 fee to help pay for nearly half of the Student Union $70 million renovation project.

Two senators abstained from the final tally.

Sens. Summer Katzenback and Rosanna Savone said they did not vote on the issue because they were unsure of the document's message.

Katzenback said she was uncomfortable with the Senate supporting a "yes" vote on the fee.

To avoid misinterpretation of the resolution, Katzenback proposed an amendment stating that ASUA did not support or oppose the fee for the Student Union project. The amendment failed unanimously after senators agreed it contradicted other portions of the resolution.

Savone said she didn't have enough information about the referendum to make a proper decision.

"I don't feel I am informed enough about student alternative options," she said. "I just didn't think I could vote yes confidently."

However, Davidson said the senators have been informed about the Student Union project and its funding.

"This resolution tells students that we've done our homework," he said.

Davidson also spoke briefly after the vote, warning senators that their role would get tougher in the next few weeks.

"Next month is going to be very hard and I expect you to be out there educating students," he said. "I know this whole process has been very difficult and time consuming, but now is a time for ASUA to come together."

ASUA Executive Vice President and head of the Senate Casey Cuny, commended the rest of ASUA for bringing the resolution to the attention of the Senate.

"This could have just gone through the executives without the senators knowing about it," he said.

In other business, Mimi Gray, director of child care services, updated the Senate on the College of Agriculture's Institute for Children, Youth and Families.

Last month the Senate gave $1,500 to the $4-6 million project. The project would create a facility to handle child care services on university property north of campus. Gray said the project had received initial approval from the Arizona Board of Regents and was seeking private funding for the building.