By Scottie Bricker
Arizona Daily Wildcat October 24, 1997

UA big underdog to unbeaten Cougars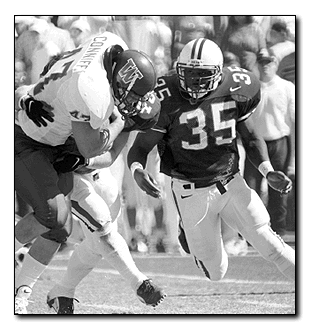 Chris Richards
Arizona Daily Wildcat
Arizona linebacker Chester Burnett (35) rushes to assist inside linebacker Marcus Bell (40) as he wraps up Washington fullback Pat Conniff (47) in Saturday's game. Burnett and Bell are going to have their hands full again this weekend as WSU boasts the conference's top-rated quarterback and the nation's No. 10 ranking.

In last week's debacle versus Washington, the Wildcats faced the highest-rated quarterback in the Pacific 10 Conference, the top-ranked rusher and the 10th-best team in the country.
And they were blown out by 30 points in their own stadium.
So this week Arizona travels to Pullman, Wash. to take on Washington State - which now has the top-rated passer in the conference in junior Ryan Leaf, the fourth best rusher in senior running back Michael Black, an undefeated record and the No. 10 ranking in the latest Associated Press poll.
"Anyone that is 6-0 is a good team and they are one of the better teams in the nation," Arizona head coach Dick Tomey said. "We have had some knock down, drag out games against Washington State. This week shouldn't be any different. They run some of the same stuff as Washington, so we know what to be prepared for."
The similarities between this and last week's opponent are striking, and a similar outcome is not out of the question.
The advantages waiting in the Cougars' corner are even more eye-opening.
Washington State boasts a quintet of senior wide receivers that are modest and talented enough to have dubbed themselves the "Fab Five."
"Five is about just the right number because I don't think you can play in our offense as hard as we ask them to play and play every down," Washington State receivers coach Mike Levenseller said. "Every different week is a different guy making the big catch. They are five really good kids and they support each other."
Shawn McWashington, Shawn Tims, Chris Jackson, Kevin McKenzie and Nian Taylor have accounted for 93 of the Cougars 115 pass receptions and have caught 19 of the 21 touchdown passes, a statistic to make the already much-maligned Arizona secondary shudder.
"We're going to come at them like we would any opponent," senior defensive back Kelly Malveaux said. "It doesn't matter who we face, we are going to give it our best."
With the loss of defensive end Mike Szlauko to a back injury, the Wildcats will look to freshman Idris Haroon to fill the shoes of the Pac-10's sack leader.
The Wildcat offense is still improving and playing arguably its best football of the season.
Redshirt freshman quarterback Ortege Jenkins has thrown for nine touchdowns against only two interceptions and has been helped by the solid running game, led by sophomore Trung Canidate and senior Kelvin Eafon.
Canidate is second in the conference in rushing despite missing last week's game against the Huskies with an ankle injury. He is listed as questionable for tomorrow's game.
In Canidate's absence, Eafon carried the ball 23 times for 151 yards and three touchdowns, supplying the Wildcats with their main source of offense against the Huskies.
Arizona ranks third in the conference in rushing, just ahead of Washington State, who's offensive line boasts four seniors.
"Their offensive line is full of seniors and the games against them are always grudge matches," Ua defensive tackle Joe Salave'a said.
The Cougar seniors have all the motivation he needs for tomorrow's game thanks to Arizona's four-game winning streak between the schools.
"There are so many reasons to win this game," Washington State head coach Mike Price said. "No one on this team has beaten the Wildcats."
Arizona (3-4,1-3) at Washington St. (6-0,4-0)
When: Tomorrow at 12:30 p.m.
Where: Martin Stadium in Pullman, Wash.
TV/Radio: Televised by ABC (KOLD channel 9) and broadcast live on KNST Radio (AM 790)
What: The Wildcats face the 10th-ranked team for the second week in a row ... Cougar quarterback Ryan Leaf is among the top five Heisman Trophy candidates, and leads the conference in passing efficiency and total offense ... Arizona has won the last four meetings against Washington State, but has not defeated a top 10 opponent since 1994.