By Greg Clark
Arizona Daily Wildcat October 27, 1997

UA rakes in record revenue in '97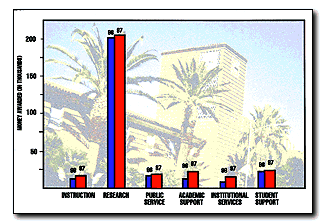 Research projects reaped the most benefit from the record $295 million the UA took in this year from outside normal state funding.

The University of Arizona received the money from outside sources in the 1997 fiscal year, according to preliminary figures from the Office of the Vice President for Research.

The monies outmatched the $289.1 million for the year the university received in state funds.

"This is our highest grand total ever," said Alice Langen, coordinator of research services for the vice president's office.

The total is up nearly 10 percent from 1996, but only $2 million more than the UA brought in for fiscal 1995.

Though the $295 million includes money for six categories, Langen said, the big winner was research.

Outside sources paid almost $209 million in support of research in fiscal 1997, said Michael Cusanovich, the UA's vice president for research and graduate affairs.

That is up $6.6 million, about 3 percent, from fiscal 1996, he said.

With federal funding remaining constant and more people vying for those dollars every year, competition for research money is increasingly fierce, Cusanovich said.

"A 3 percent increase is very good in the market we're in," he said.

"Roughly 3,000 research projects are being funded at any one time- 10 to 20 of those are "real big ones," annually generating more than $1 million each, he said.

Some of the largest projects now being conducted include research in optics, low-power electronics and environmentally friendly electronics production, Cusanovich said.

The $209 million is a slight rebound for research income after its fall from 1995's record of more than $230 million, Langen said.

But Langen downplayed the significance of single big years and record breaking. Variations can be somewhat arbitrary, she said, because a fiscal year abruptly begins July 1 and ends June 30.

Where a large grant, gift or contract is concerned, a few days or weeks can make a difference of tens of millions of dollars between two annual totals, Langen said.

The important point is that in recent years the UA has consistently brought in more than $200 million a year, she said.

Moreover, after accounting for the impulsive spikes and dips, annual totals have been steadily edging upward, Cusanovich said.

The spike in 1995 came largely from money UA researchers received for the Cassini/Huygens Saturn mission and the NICMOS instrument for the Hubble Space Telescope, Cusanovich said.

Several Lunar and Planetary Laboratory scientists participated in the design and development of instruments for the Cassini space mission, which was launched Oct. 15 to study the Saturnine system.

NICMOS, the $100 million Near-Infrared Camera and Multi-Object Spectrometer, was built by astronomers at the UA's Steward Observatory and installed into Hubble last February.

Both projects brought in millions of dollars over several years, with especially large sums in 1995.

Propelled by that year's record, the UA moved up in the National Science Foundation's rankings of top research universities last December.

The foundation, which ranks universities by the amount of money spent on research, placed the UA 14th among all research universities based on 1995 figures.

The National Science Foundation ranks institutions based on how much money is spent on research from both state funds and outside sources, Cusanovich said.

The 1997 figures for outside research awards will be considered along with state funding when the National Science Foundation issues its 1997 rankings at the end of 1998, Cusanovich said.

Together money for student services, academic support, public service, instruction and institutional support made up the other $21 million, Langen said.

Student services include funding for scholarships, fellowships, student activities and organizations. Academic support is donations that indirectly benefit academics, such as books donated to the library, Langen said.

The public service category contains funding for public outreach and educational programs targeted at any group outside the University.

Instruction includes funding for specific teaching programs, curriculum development or anything with a direct benefit to teaching. Institutional support is money received for equipment or buildings, Langen said.