By Assocated Press
Arizona Daily Wildcat October 27, 1997

Wildcats lose heartbreaker in Pullman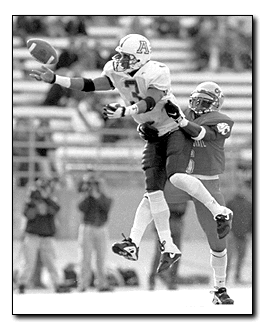 The Associated Press
Arizona Daily Wildcat

Washington State defensive back Dee Moronkola (6) grabs what he can on Arizona wide receiver Rodney Williams (3) on a pass attempt in the second half Saturday. Williams finished with five receptions on the day.


PULLMAN, Wash. (AP) - Ryan Leaf was reaching for his helmet when Arizona decided it was time to do or die.

Leaf's 1-yard dive had given Washington State a seven-point lead in overtime, but Arizona responded with a touchdown.

"I thought they were going to kick the extra point and we were going to go into another overtime," Leaf said.

But Arizona kept quarterback Ortege Jenkins in the game for a two-point conversion attempt, meaning the Wildcats would win or lose with Leaf standing helpless on the sideline.

Jenkins rolled out, was hit by LeJuan Gibbons and Duane Stewart and fumbled into the end zone, where Washington State's Gary Holmes recovered to preserve the 10th-ranked Cougars' 35-34 victory on Saturday.

"I tried to make it look like I fumbled so if somebody picked it up in the end zone we would win, because I knew I wasn't getting in," said Jenkins, a redshirt freshman who threw four touchdown passes and ran for a fifth.

For Gibbons, a defensive back who was burned for three touchdowns Saturday, redemption came in the form of stopping Jenkins, his teammate when the two attended Jordan High School in Long Beach, Calif.

"I saw him tuck it and I had to go," Gibbons said. "I had to stop him."

Washington State had the first overtime possession from the Arizona 25, and Leaf dove over from the 1 to make it 35-28. Rian Lindell's extra point proved to be the difference.

"This obviously was history-making," Washington State coach Mike Price said as the Cougars improved to 7-0 for the first time since the 1930 team that went to the Rose Bowl. The Cougars lead the Pacific 10 Conference at 5-0.

Arizona (3-5, 1-4) almost tied the game again, Jenkins' six-yard TD pass to Rodney Williams brought the Wildcats to within a point.

"Sometimes you play winning football and you're not rewarded with a win," Arizona coach Dick Tomey said. "I think that was the case today.

"We're all devastated, we're hurt, but I'm proud as hell."