By Chris Jackson
Arizona Daily Wildcat October 27, 1997

Icecats romp in season-opening series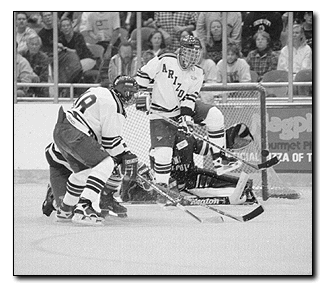 Tanith L. Balaban
Arizona Daily Wildcat

Marc Harris (18) takes a shot on goal as Ed Carfora steps out of the way. Harris had two goals and seven assists in the Icecats 12-3 win over the St. Louis Billikens on Friday night. The Icecats won their second game against the Billikens 11-1 on Saturday.


It wasn't pretty, but 139 shots and 23 goals later, the Arizona Icecats club hockey team swept their first series of the year.

The victim was St. Louis University (1-3-1), which the Icecats defeated 12-3 and 11-1 on Friday and Saturday nights.

"I think the whole team showed a lot of ability," head coach Leo Golembiewski said.

The Icecats had 80 shots on goal in Saturday's win, with most coming during the second period.

After ending the first period with only a 2-0 lead, Icecat freshman goaltender Joe Peplinski stopped three shots during the Billikens' only persistent attack of the night.

Icecat sophomore defenseman Joe McCaffrey, who went on to be named player of the game, took a big shot from the blue line for a power play goal that made it 3-0.

"It's good whenever you pop one in from the point," McCaffrey said.

St. Louis defenseman Jason Price then countered only a minute and 28 seconds later, cutting the Icecat lead to 3-1.

Up to that point, the Icecats had taken over 40 shots on goal, yet had only scored three goals. All that changed thanks to freshman left-wing Paul Dorn.

Shorthanded as a result of an interference penalty, the Icecats were just trying to hold the Billikens out of their end when Dorn took the pass from freshman right wing Mike Graves and displayed his skating skills, stuffing one into the net past St. Louis goaltender Pat Rogers and putting the Icecats up 4-1.

"It felt pretty damned good," Dorn said of his weekend performance, which included a hat trick on Friday. "Getting through the first games was a big weight off my shoulders."

McCaffrey felt that Dorn's goal was the spark that lit the team's offensive fuse.

"It turned things around for us," McCaffrey said. "It was a big goal, it got us going again."

From there, it was all Icecats as they hammered St. Louis with a balanced offensive attack that saw six different players score en route to the 11-1 blowout. Friday's game was equally lopsided, with the Icecats taking a 4-0 lead after one period, then pushing it to 7-2 after two, with Dorn and senior Ben Ruston leading the way.

Dorn scored three goals in his first game, something he said he had "expected to do."

"I set my expectations pretty high," Dorn said.

Ruston, who had 20 goals lastyear, had seven in the two games.

Freshman right-wing Marc Harris had a big night as well, with two goals and seven assists. Still, after not scoring until 10:42 into the second game and not scoring until 11:18 into the first game, concerns about the team's ability to get started were raised.

"The first 10 minutes we didn't score," Ruston said. "We've just got to get out there and score quickly."

Golembiewski said the lack of any kind of a pre-game pep talk on Saturday may have contributed to the team's slow start.

"Mental preparation is the key to being ready in competition," he said. "If St. Louis can make you look as inconsistent as they did us, what happens when Colorado and Ohio come to town?"

"Our heads weren't quite in it. We came out flat-footed," McCaffrey added.

Dorn, though, said it wasn't because the team was ignoring St. Louis and looking ahead to three-time national champion Ohio University, which is coming to town on Nov. 7.

"We're not looking ahead at all," he said. "Right now we're just getting ready to face Colorado next weekend."