By Kristen Davis
Arizona Daily Wildcat October 27, 1997

Penfield 'the man' as UA sweeps ASU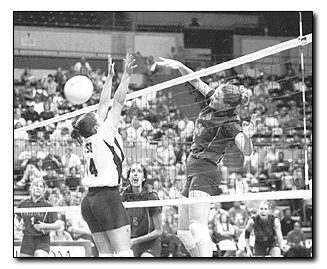 Nicholas Valenzuela
Arizona Daily Wildcat

Senior Carolyn Penfield records one of her 33 kills during Arizona's win over Arizona State Friday night at the Activity Center in Tempe. Penfield's 33 kills was the fourth-highest single game total in UA history. The win marked the Wildcats' first sweep of the Sun Devils since 1989.


TEMPE- Senior Carrie Penfield, an outside hitter on the UA volleyball team, made sure her name and impact on the program are not soon forgotten.

Penfield led No. 15 Arizona to its first sweep of Arizona State since 1989 Friday night when UA defeated the Sun Devils at ASU's Activity Center, 15-7, 6-15, 17-15, 15-5.

She recorded a career-high 33 kills, the fourth-best performance in UA history.

"You're kidding," Penfield said when she was told she had 33 kills a few minutes after the match. "There is no way I would've ever guessed I had that many. Geez, I would have thought I had about 22. Wow.

"I was really determined personally and prepared myself to have the game of a lifetime."

Penfield also added a team-high 13 digs and six blocks.

"Talk about stepping up and being the man. That's exactly what she was," UA coach Dave Rubio said. "She set the tone for our team. I don't think we would've won. It would've been close without her performance."

ASU coach Patti Snyder-Park is probably relieved her team won't meet a Penfield-led Wildcats team again, but she surely won't soon forget Penfield. In Arizona's win over the Sun Devils in Tucson last month, Penfield pounded Arizona State for 15 kills, eight digs and five blocks.

"Penfield was just screaming for the ball again. We knew she was the go-to player and would get a lot of balls," Snyder-Park said. "We tried to stop her by putting a two-person block on her but she just hit through the seams."

Penfield's kills routinely sided out for the Wildcats (15-3 overall, 7-3 in the Pacific 10 Conference) during crucial moments in Friday's match.

The Sun Devils (12-9, 3-7) jumped out to a 5-0 lead in game three before the Wildcats caught up and tied the score at five and at seven. They gained their first lead of the game, an 8-7 advantage, when Penfield blocked ASU's Amanda Burbridge.

The game was tied again at eight and at 10 before the Sun Devils took an 14-11 lead with the help of Laura Hibsman's three blocks during that stretch. The Sun Devils blew six game-point opportunities and the Wildcats used five game-point tries to pull out the 17-15 win in the third game. The final point came when sophomore Erin Aldrich blocked Terri Cox, who led ASU with 20 kills, before putting away a Sun Devil overpass.

"When you're at home with a 14-11 lead and the crowd cheering, you should be able to sideout and score one point. That's the difference between having experience. (Arizona's) experience won out and we were just deflated in game four," Snyder-Park said of her team's lack of experience

Rubio was unhappy with his team's "passive" play during much of the third game, then the players responded and gave him one of his most memorable team performances.

"It was the first time I've seen the team so tenacious and unwilling to lose. I can't remember a time when a team was that tuned in and as fierce in its will to win." he said.

"That part really excited me, more so than the win itself. If we can take that and expand on that moment and make it more of a norm, it will really be exciting. (That play) is the tangible all teams are looking for."