By D. Shayne Christie
Arizona Daily Wildcat October 29, 1997

Minimum wage increase center of heated debate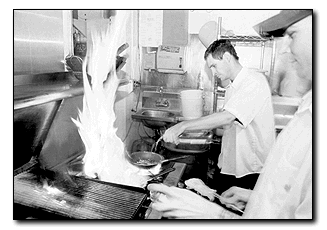 Dan Hoffman
Arizona Daily Wildcat

Line cook Rodney Miller (right) steps back from a towering flame on his grill as fellow cook Damian Hale pours wine onto a food item at the Cup Cafe. Low-paying jobs such as these are liable for a boost in pay if Proposition 202, which would raise Tucson's minimum wage from $5.15 per hour to $7 per hour, passes in the Nov. 4 general election.


How would you like to make 7 bucks an hour?

Next Tuesday, Tucson voters will decide whether or not to approve Proposition 202, Ša proposal to raise the minimum wage in Tucson to $7 per hour.

Supporters say approving the new wage will help to eliminate poverty and boost the economy, while opponents claim a higher wage would result in a loss of jobs or higher prices for the consumer.

If approved, the new minimum wage would be among the highest in the country and could mean thousands of UA employees would see bigger paychecks -Šor none at all.

Somewhere between 1,500 and 1,800 University of Arizona employees work for minimum wage, said Jerry Ford, compensation specialist for UA's human resources department.

"It (a higher wage) is going to mean some people may be out of jobs," Ford said explaining that the money would have to come from somewhere.

Others administrators agreed.

"If it goes up to $7 there would be serious financial implications," said Dan Adams, director of Student Unions. He estimated 300 to 400 student employees work at UA's unions for minimum wage.

Adams said the 1996 wage increase from $4.75 to $5.15 an hour cost the unions $60,000 and an increase to $7 would cost the unions hundreds of thousands of dollars.

The ripple effect created by the measure, which could mean paying proportionately higher salaries to all employees, would cost the unions even more money, he said.

"I'm torn. When I think from an employees point of view, I think that it is great. From a management point of view, I find it hard to support that significant of a jump," Adams said. He added at this point he would vote against the proposition.

The Tucson Livable Wage Committee got the measure on the ballot by gathering over 10,000 valid signatures earlier this year.

Creative writing freshman Margaret Adcock, who is a member of the People's Congress for Social and Economic Justice, said the real issue is eliminating poverty.

"We have the lowest wage this side of the Mississippi," Adcock said, noting a vote against the proposal would only support wealthy business owners.

Adcock said the idea that companies would raise prices to compensate for higher wages is simply not true.

In Michigan, McDonald's employees get paid $8 an hour but Big Macs still cost the same, she said.

"They (businesses) still need to be able to sell these things (products) to people. People in various states that have raised the minimum wage -Šthe prices have not gone up that much," Adcock said.

Roberto Martinez, a history and Mexican American studies junior and member of the Peoples Congress and the Livable Wage Committee, agreed that prices would not increase.

"Historically it hasn't happened," he said. "It has been proven that more influx of money goes back into the community."

Martinez said the threat of less jobs and higher prices is "just a tactic to scare people."

Martinez and Adcock were both concerned that two-thirds of the poor are women and one-third are minorities.

But some are still opposed to the wage measure.

"No one is saying that wages in Tucson don't need to increase, it is just the way they are going about it is totally wrong," said Ric Gordon, executive director for the Save Tucson Jobs Coalition.

Proposition 202 is opposed by the coalition, which includes the Tucson Metropolitan Chamber of Commerce, the Arizona Restaurant Association and the Innkeepers Association.

The Tucson Metropolitan Chamber of Commerce pushed a law through the state legislature last spring that made it illegal for individual cities to decide wages.

The State Supreme Court later struck down that legislation , allowing the measure to appear on the Nov. 4 ballot.