By Arlie Rahn
Arizona Daily Wildcat October 30, 1997

Nike University?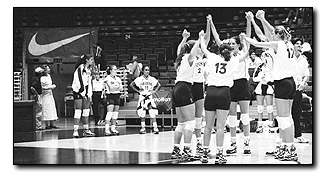 Nicholas Valenzuela
Arizona Daily Wildcat
The UA volleyball team warms up for a game after running under one of the new Nike banners included in the school's agreement with the company.

The UA athletic department is in the process of finalizing a multimillion dollar deal with Nike that would help finance many of the school's 18 Division I sports programs.
The contract, which will last for either three or five years, includes all of Arizona's Division I sports except tennis and golf.
"We are just waiting for the lawyers to finalize it at this point," UA senior associate athletics director John Perrin said. "This is a great move for our growth as a program."
Perrin said that Nike's interest in Arizona was heightened by the men's basketball NCAA Championship and the deal should be signed in the next couple of weeks, with an emphasis on completion by the end of the calendar year.
While no dollar amount has been specified for Arizona's deal, sources close to the negotiations estimated the deal to be worth $3 to 8 million. That money would go directly to the Athletic Department's annual budget.
Other schools have also received Nike packages worth several million dollars.
For example, the University of Colorado signed a six-year contract for an estimated $6 million with incentives if the sports do well - such as if the football team makes an alliance bowl.
Perrin said Arizona's deal will start out with 14 sports, but will probably include all 18 in the future.
Softball currently has an agreement with Reebok, but may be included in the Nike deal after its present contract expires after this season.
Nike sponsors nearly 200 Division I programs, but only about 15 are considered "Nike schools."
In order to be a "Nike school", a program must have the majority of its Division I sports under Nike sponsorship. Arizona joins an elite group that includes schools like Florida State, Michigan, Colorado and Southern Cal.
"In order for us to get in a multiple sport arrangement, that school has to have a good degree of national licensing strength," said Eric Lautenbach, Arizona's Nike representative. "That involves having numerous programs that have been successful and now have a high level of exposure."
Arizona State is sponsored on an individual sports basis, with Nike providing athletic shoes for the men's basketball and football teams.
"We don't have an all sport arrangement with any particular corporations," ASU associate athletic director of corporate and community relations Tom Collins said.
Collins said ASU has numerous sponsors including Nike, Adidas and Champion.
While many of Arizona's sports are seeing Nike equipment for the first time, the UA men's basketball team has been Nike-sponsored since 1984, the year the school hired head coach Lute Olson.
"We have been with Lute since he was at Iowa, and have been happy with that agreement," Lautenbach said. "It is just a great opportunity for us to give back to the university."
The UA football team has been displaying the Nike swoosh since the season began, even though the agreement had not been finalized.
"(Nike) just wanted to ensure they got total exposure for the football season, so they gave the uniforms to the program as a gift," Perrin said. "Nike didn't want to have this deal wrapped up in November and miss out on the entire football season."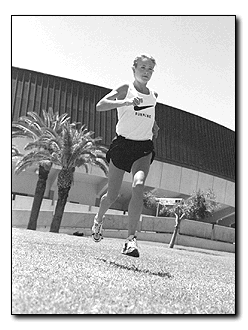 Arizona Daily Wildcat
Arizona Daily Wildcat File Photo
Junior cross-country national champion Amy Skieresz runs in her Nike garb during practice. Skieresz and her teammates are one of 15 UA Division I sports sponsored by Nike this year.
Dave Plati, Colorado assistant athletic director, said his school signed a deal in the summer of 1995 that included 17 of its Division I sports. The deal involved Nike products and about $2.6 million in support, he said.
Plati was high on Nike because of the company's product quality and solid financial state.
"We really feel like we got one of the better deals available. We got a chance to bring the finest product available into our school for our athletes, and also receive a good deal of financial support," Plati said. "The money is also guaranteed, but I don't think we have to worry about Nike going out of business."
USC has a multi-year contract with Nike for 14 of the school's 31 Division I sports, but the deal was more a necessity than a convenience.
"As a privately funded university, we are pressed to fund our athletic program," said Mark Ryan, USC assistant athletic director and head of corporate sponsorship. "The Nike partnership not only gives us a good product to compete with, but also generates the funds we need to keep going."
USC not only has the endorsement package with Nike, but also has its stadium sponsored.
"We really have a fantastic deal and it is exactly what we needed," Ryan said.