By Staff Reports
Arizona Daily Wildcat October 30, 1997

Nike at a glance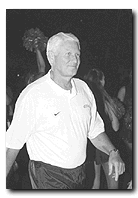 NIKE, Inc., based in Beaverton, Oregon, is a leading designer and marketer of authentic athletic footwear, apparel and accessories for a wide variety of sports and fitness activities. Total revenues for the trailing twelve months ending August 31, 1997, were $9.67 billion.

The SWOOSH logo is a graphic design created by Caroline Davidson in 1971. It represents the wing of the Greek goddess NIKE. A mystical presence, the goddess symbolized victorious encounters and NIKE presided over history's earliest battlefields.
Nike manufactures 120 different varieties of footwear that do not include animal products, ranging from four different men's basketball shoes to 18 different women's technical running shoes

1985: Chicago Bulls basketball rookie Michael Jordan endorses NIKE line of AIR JORDAN court shoes and specialized apparel.
In spring of 1972, the first shoe with the NIKE SWOOSH was introduced. A NIKE T-shirt to promote the shoe becomes the first apparel item.

1997: Revenues reach the $9.67 billion mark. Nike reaches deal with the University of Arizona for at least three years.