By D. Shayne Christie
Arizona Daily Wildcat October 31, 1997

Regents spare property near UA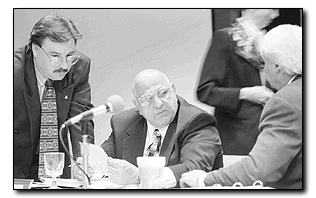 Chris Richards
Arizona Daily Wildcat

Regent Eddie Basha pauses during yesterday's Regent's meeting, held in the Rincon Room of the Memorial Student Union.


The Arizona Board of Regents narrowly defeated a UA proposal yesterday afternoon that could have forced a Tucson man to sell his property near University Medical Center.

Following a heated discussion, the board voted 5-4 to deny the University of Arizona permission to use eminent domain, which allows a government agency to take private property for public use.

"It's an abuse of power by the government that goes against the rights of the people," Regent Eddie Basha clamored after the meeting, recalling when one of his Chandler-area supermarkets was forced to close because of eminent domain.

After the vote Basha and Regents Kurt Davis and Don Ulrich left the meeting.

At yesterday's meeting, students and faculty from the Arizona International Campus of the UA supported an AIC move to the UA main campus, in anticipation of today's regents' vote on the matter. They also presented AIC head Celestino Fern˝ndez a certificate of appreciation.

UA President Peter Likins said he would be surprised if the board takes exception to moving AIC to the main campus.

The board also voted to begin changing room usage policies at Arizona universities to better exploit existing space.

According to the meeting agenda, recommendations include:
Adopting new usage guidelines for fall 1999 and fall 2000

Establishing campus space committees to develop plans

University presidents must present plans to the board in May 1998
"If we could increase utilization of classroom space, we could save $217 million," said Mark DeMichele, chairman of the committee which studied statewide university room usage.
Regarding the property seizure, Senior Vice President for Business Affairs Joel Valdez asked the regents to approve an eminent domain buyout of 1740 to 1748 E. Lester St., just north of campus near UMC.
Valdez said the property owner, John A. LaVoie, reneged on a June 3 deal to sell the property for $525,000.
LaVoie, a UA graduate, said yesterday evening there was a contingency clause in the contract which allowed him to pull out of the deal.
He claimed the UA has never offered him a fair market value despite several offers since 1990.
Valdez also asked two audience members to stand during the meeting - two unidentified UA staffers who Valdez claims were threatened by LaVoie.
LaVoie later said those threats were fabricated, adding he has concrete evidence to prove it.
"Joel Valdez and the two women he is referring to are absolute liars," LaVoie said. "I challenge Mr. Valdez to produce a single shred of evidence."
Valdez refused comment on two occasions and the two employees declined questions.
Regent John Munger said if the UA had come forward with specific reasons they needed the property, he would have been "willing to grant eminent domain."
LaVoie said a new contract, which also has a contingency clause, offers $550,000 for the property.
"I don't sell property to liars and cheaters and thieves," he added.