By Tory Hernandez
Arizona Daily Wildcat October 31, 1997

Former student leaders urge ASA to oppose Union fee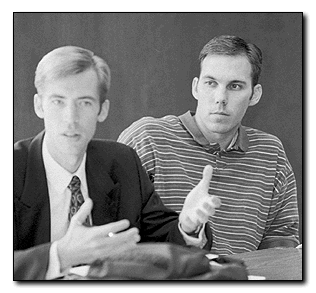 Robert Henry Becker
Arizona Daily Wildcat

Former Student Regent Jonathan Schmitt listens to current Student Regent John Platt discuss the proposed new Memorial Student Union fee referendum yesterday in the Student Union.


A former Arizona student regent and a past ASUA president urged a student lobbying group to oppose the $40 Memorial Student Union fee yesterday, contrary to the wishes of some UA student government leaders.

"The idea that something needs to be done now with a fee is false," said Jonathan Schmitt, last year's student representative on the Arizona Board of Regents.

"Until the university has a plan, it's foolish to saddle ourselves with the burden," he said, adding a UA fee might encourage new fees at other Arizona schools.

However, Associated Students President Gilbert Davidson, an ardent supporter of the Student Union project, said it is impossible to judge what legislators and administrators will do in the future.

"You cannot sit here and tell me what will happen in the future because we don't know what the future holds," he said. "I don't think this is going to open the door for future fees."

Schmitt and T.J. Trujillo, ASUA president from 1994-1995, told representatives of the Arizona Students Association a $40 per semester fee to fund parts of the proposed $70 million Student Union renovations is too much to ask of students.

"We tried to ride off into the sunset, but someone just keeps kicking the horse," Schmitt said.

Arizona Students Association represents Arizona college students and lobbies the state legislature on higher education issues. The group has yet to take a stance on the fee.

Brook Rosenbaum, an ASA representative from the UA, said major concerns should have been addressed earlier.

"If you have concerns, lets talk about them now," he told the other board members, "but now is not the time to say stop everything."

Current student regent John Platt was also at the meeting and agreed with Schmitt and Trujillo.

"I think (supporting a fee) puts you in a weak position for bargaining (with the regents)," he said. "A student fee should be the last option."

The 18-person ASA Board of Directors, which gathered in the Student Union's Cactus Lounge, includes four UA members:
Davidson

Ryan Anderson, a former ASUA senator

Mark Rooney, an ASA task force director who also coordinates campuswide promotion of the Student Union referendum

Brook Rosenbaum, a former ASUA federal relations director
ASA Executive Director Christine Thompson said the lobbying group has historically been opposed to fee implementation as well as differences in education costs between the three state universities.
At the board meeting, Schmitt said the fee, if imposed, could affect all Arizona students in two ways:
If the state legislature saw students willing to pay for a new building themselves, they would be less inclined to appropriate money for future projects, Schmitt said.
He also claims the Board of Regents wouldn't take student leaders seriously if they asked for a zero percent tuition increase if one university raised its own cost by 4 percent.
"I think the proposed fee definitely has statewide implications," said Schmitt, who is also a UA law student.
"As a Board of Directors, you need to step up to the plate," he added.
Additionally, imposing a large fee at one university would give the other universities an excuse to request approval of fees, he added.
"There are probably administrators on your campuses hoping and praying that this fee will go through so they can see fees implemented there," he told the representatives from Arizona State and Northern Arizona universities.
The UA has received conceptual regent approval for the Student Union project, but is not permitted to consult with an architect pending full project endorsement from the regents.
The estimated $70 million price tag is based on what size and facilities would be needed to create revenue, but Davidson said the price could come down once design plans are drafted.
"Everyone who complains about this fee has yet to bring a solution. In no way am I for paying more tuition, but I am smart enough to realize were not going to get it done for free," he said.
Thompson said yesterday the board members would not vote on the issue at the time and didn't anticipate it in the near future.
"If one of the members wants to put it on the agenda for Nov. 10, they can but I don't see that happening," she added.
Rosenbaum spelled out his side of the issue in a nutshell.
"None of us want to screw over the students," Rosenbaum said. "But we need to get this damn thing built."
Want more information on the referendum? Check out our Student Union Referendum page