By Kristen Davis
Arizona Daily Wildcat October 31, 1997

Volleyball team's bag of tricks await Huskies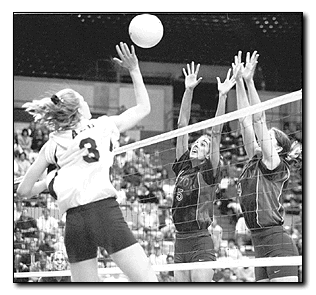 Nicholas Valenzuela
Arizona Daily Wildcat

Middle blocker Erin Aldrich (5) and outside hitter Raelene Morton (4), both sophomores, block an ASU opponent in last weekend's win.


The 13-ranked Arizona volleyball team is planning on creating a little Halloween mischief of its own tonight.

Instead of taking candy from children, the Wildcats hope to steal a match from No. 18 Washington in Seattle at 7:30 p.m. The game is televised on Fox Sports.

Last month, the Huskies stormed into McKale Center and broke UA's school-record 13-match home winning streak when they handed the Wildcats (15-3 overall, 7-3 in the Pacific 10 Conference) their first loss of the season.

"That loss gets under our skin," Carrie Penfield said. "We don't think they should have even won a game."

Arizona needs all the emotion they can gather. Washington is coming off a road trip sweep of the Southern California schools and Washington State, who UA plays at 7 p.m. Saturday, is No. 10 in the nation.

"Without question, this is the most competitive weekend we will have faced," UA coach Dave Rubio said. "Washington and Washington State are the two most competitive back-to-back teams to play,"

The competition poses major implications in conference standings too. The Huskies, who have defeated four out of the last five ranked opponents they've faced, are tied for second in the Pac-10 at 8-3 with the Trojans. Arizona is a close third with a 7-3 mark and the Cougars stand in fourth at 7-4.

"Washington State is a team that is probably up against the most (pressure). In some ways, they've got to win two to get back into it. Arizona has got to win, I suppose, to stay in there and push us out and vice versa for us (with Arizona)," Washington coach Bill Neville said. "But I'm too old to sit here and get into a turmoil about what may happen and what may not."

What about Rubio? Does he think to himself of how much two wins would propel his team in the conference and national standings, or does he twitch just imagining what situation a pair of losses would create?

He insists neither scenario is correct.

"I look at it as playing one match at a time, especially with Washington and Washington State. I don't look further down the road than one match," Rubio said.

But, deep down inside Rubio has to realize how important this weekend is.

His players certainly do.

"It's one of the biggest tests I think we'll face," senior Stephanie Venne said. "(We know if) we can come back with two wins, we'll move way up in the polls and conference standings."

Arizona's biggest task will be preventing senior Makare Desilets from controlling another match. Desilets, Washington's premier quick hitter, was recognized both nationally and within the conference for her stellar weekend play. The AVCA and Pac-10 player of the week hit .350 with 56 kills, 24 blocks and 19 digs.

Her career-high 37 kills against the Trojans was the sixth-highest in conference history.

"She's going to get her swings and kills. She's having a great year and we're hoping to contain her, but she certainly has the ability to dominate a match," Rubio said.

Desilets, who is the leading blocker in the Pac-10 with a 2.01 per game average, hit a match-high 22 kills and seven blocks last time the teams met.

"Arizona has got to prepare for two tough matches," Neville said. "It's a great test for their program and I expect them to respond to it in a very positive manner. Hopefully, a few points less against us though."

The Cougar-Wildcat meeting should be equally exciting.

Arizona overcame a 9-13 fifth-game deficit to upset then-No. 6 Washington State in Tucson last month.

The Cougars are led by junior Jennifer Stinson and Keren Oigman, a senior who is three digs and 39 kills away from reaching the 1,000 career-mark in both categories.

Despite her presence, the Cougars have been struggling since their loss to Arizona, dropping four of its last seven matches.

"We know we can't take anyone for granted," Venne said. "Even if they lost their last 10 games, they would still be coming out wanting a win."