By Carol Gachiengo
Arizona Daily Wildcat August 29, 1997

UA scholarship policy leaves international students 'misinformed'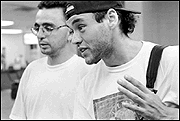 Chris Richards
Arizona Daily Wildcat

Yassine Cherrat, of Morocco (front), and Carlos Bonifasi, of Spain, attend a meeting where people sign their names to a letter of protest regarding the UA scholarship policy, in the Student Union, earlier this week. The letter was sent to the UA president, the director of financial aid and the director of international affairs.


The Center for Global Student Programs announced last week that undergraduate international students who enrolled at the UA this fall will not be eligible for future scholarships.

In the past, the policy has been to grant scholarships to deserving international students after two semesters of study. Therefore, many incoming students had not yet applied for any merit-based scholarships.

David Currey, assistant director of the Center for Global Student's Programs, made the announcement on the next-to-last day of international students' orientation.

He said the change is designed to encourage international students to attend the UA by offering pre-enrollment scholarships.

Currey explained that the change in policy was made too late to inform the current crop of international freshmen before they were admitted.

Now, they cannot receive an international students' scholarship at any point in their undergraduate program Ü unless they are willing to cancel their registration, wait one year, and re-apply for admission and a scholarship.

In a meeting held by international students in the Memorial Student Union earlier this week, several international students signed their names to a protest letter addressed to the president of the university, which also was sent to the director of financial aid, Phyllis Bannister, and the director of international affairs, Paul Rosenblatt.

According to the letter, the students said they believe they were misinformed and would have accepted offers at other universities if they had received accurate information about the UA scholarship policy. They also seek to find out to whom the 60 scholarships put aside for international students in 1997 have been awarded.

Yassine Cherrat, a first year management information systems major from Morocco, said he chose to attend the University of Arizona because it has a good MIS department - "the third best in the country," he said. "I had good grades and first class recommendations and I was expecting the best. I might leave next year as I could have a full scholarship elsewhere."

So what options remain for international students?

International students do not have the option of working their way through college because their visas limit the hours they can work and confine their employment to within the campus.

Nevertheless, they must pay non-resident tuition, which is $3,326 for 12 units per semester. The total fees for non residents for the fall semester is $4,356 compared to $1,030 for residents.

"Although we work 20 hours, our fees are very high," said Carlos Bonifasi, a first-year student from Spain.

The Scholarship Office in Old Main is advising international students to browse through scholarship web sites on the Internet or directing them to the global students' program, where they can read "Funding For United States Study - A Guide For International Students and Professionals."

David Currey is advising International student on scholarship issues during his walk-in hours or by appointment.