By Annie Holub
Arizona Daily Wildcat November 3, 1997

'Skalloween' a little too scary for this ska fan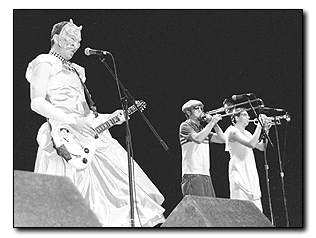 Leigh-Anne Brown
Arizona Daily Wildcat

Guitarist Aaron Barrett (left) of Reel Big Fish jams with members of the group's horn section in Friday's concert at Centennial Hall. The "Skalloween" show prompted the band to dress in costume, along with many of the 300 fans in the attendance.


"Ska does not exist, according to the Tucson newspapers," Dave from Dave's Big Deluxe declared at the "Skalloween" show put on by the University Activities Board, Rising Star Entertainment, the UA School of Music and Dance and UApresents as part of the Discover Grammy Festival On-Campus on Halloween night.

"Dead" is a term used in music to show the distinct line at which the particular musical genre being discussed has become mainstream. Punk, for example, has always been dead.

Hipster Daddy-O and the Hand Grenades was first on the bill, and they eventually got everyone to get up and dance during their first single off their first record, "The Perpetrator." Then Dave's Big Deluxe took the stage, dressed in white pantsuits with "SKA BAND" painted on the back. It was supposed to be a joke aimed at the Reel Big Fish boys, who have a similar sort of getup woven into their video on MTV. (Or so I overheard from a concert-goer.) The Deluxe boys put on an energetic show despite their self-doubts and they proceeded to make fun of the Fish sporadically throughout the show.

"Some band's coming up next with some fish name. I think it's the Dance Hall Fishers?"

Or possibly the Mighty Mighty Basstones?

I really have a lot of respect for Dave and his Big Deluxe. They've been the backbone of the Tucson ska scene for years now. They could see how weird this show's concept was, and it freaked them out as well. All those kids, crowding the stage. I kept getting the feeling that if more and more kids abandoned their seats in the back to move toward the front, eventually the weight of them all would cause the lower part of Centennial Hall to cave in, creating a sinkhole.

"This is like a fucking stadium show!" Dave yelled at one point, and he couldn't have been more observant.

Kids ran around in brand-spanking-new Reel Big Fish T-shirts wreaking havoc upon Centennial Hall, climbing up on the walls and jumping on stage. Picture if you will what would happen if the Sex Pistols played the Paris Opera house. Maybe it wasn't such a drastic juxtaposition, but it was close. I saw some kids smoking cigarettes inside and, at one point, my friends and I got a whiff of a certain herbal refreshment floating suspiciously though the air.

This would be a good time to talk about irony. I last saw Reel Big Fish a little more than a year ago in Phoenix when they opened for the Specials. At that point, they had just finished recording Turn the Radio Off, and their songs about playing in a band and the schmoozing involved, were cute. Even endearing. And they played a great cover of "Boys Don't Cry" by the Cure.

Then they went and did all the stuff they sang about. It was not cute anymore. Come to think of it, it never was cute. It was always ironic. "I'll never be a rock 'n' roll star," lead singer/guitarist Aaron Barrett sings in "I'll Never Be."

Please explain, then, the need to play, for nearly an hour and a half, song after monotonous song about learning to play guitar to get chicks.

Granted, Reel Big Fish is fun and that's what ska was all about in the first place. They're fun because they do good covers of songs like Duran Duran's "Hungry Like the Wolf" and "Take on Me" by A-HA. Look beyond that and that's where the problems begin.

They would have been even more fun if they'd SHUT UP after the first hour. I would have been satisfied, because they played "241," which is their only real ska song.

But no, they had to be a good little mainstream band and play their radio single "Sell Out" last.