American Collegiate Press awards the Online Wildcat 1997 Best of the Net!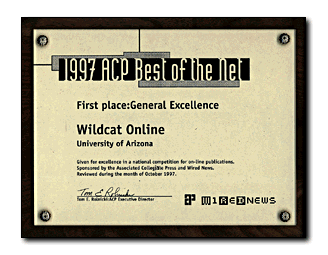 On Saturday, Nov. 1, the American Collegiate Press awarded the Online Wildcat the following awards:
General excellence: first place

Overall site design: first place

Editorial content: second place
I think I can safely speak for the whole webstaff when I say
Wooooooooohooooo!
Of course, we have a billion people to thank, people like...
Keith Diehl, who nurtured this site out of its grey-and-black dark ages and into the current format. This site has Keith all over it - it is Keith, and he deserves one enormous congratulations as much as anyone else.
Brett Bendickson, the University of Arizona's webguru and support god, whose previous and current work with the Wildcat have kept it going all these years, and going well.
Faith Edman, for her prolonged enthusiasm, guidance and support.
Mark Woodhams, for his support -- and this righteous new equipment.
Kelly Sampson and Todd Hardy, for being editors who recognize the importance of a paper's Web presence.
Christine Verges, for being the editor who not only realized that we had to get this paper online in the first place, but managed to do so.
Gabe Leung, for putting in all those early mornings.
Al Brower and Megan Guertner, for currently putting in the early mornings to get this paper online. You guys are great, we're lucky to have you, and congratulations on a heck of a job.
And if I'm allowed to thank myself, Bryan Hance, well, I will. Thanks for trying to make everything work smoothly, thank being the in-house technogeek, and thanks for contributing a mad amount of time to this site.
(I don't think I forgot anyone, but if I did, please forgive me...)
You know, this might just make it worth getting up at 6 a.m. every day...