By Jennifer M. Fitzenberger
Arizona Daily Wildcat November 7, 1997

Likins makes it official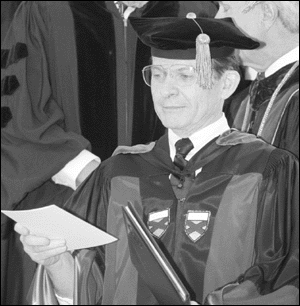 Arizona Daily Wildcat
UA President Peter Likins

After UA President Peter Likins was officially inaugurated yesterday, he mingled with Arizona Board of Regents members, administrators and alumni - but before, he met with the students.
Likins spoke to about 200 student leaders gathered in the Memorial Student Union's Arizona Ballroom about the upcoming Student Union fee referendum and his life in education.
Likins said he was impressed that there were so many "awake young people" at the sausage and egg breakfast.
"I think that speaks well of your commitment to this partnership. I will work with you through the partnership," Likins said.
To hold up their end of the bargain, Likins urged students to vote for the proposed $40 student fee to renovate the Student Union.
Likins said a negative vote would tell the state Legislature the students do not support a new Student Union.
Likins said that neither the University nor the state Legislature could help the student body finance the Union project.
"I don't have any money," he said.
Regarding the Legislature, he said "There's no money coming."
In return, Likins promised to play a major role in raising outside funds for the project.
"This is a giant project," he said about the proposed $60 million to $70 million renovation. "It's a bigger project financially than this university has ever undertaken."
Students vote Nov. 18 -19 on the referendum that would impose a $40 a semester fee to finance $30 million of the project.
Casey Cuny, Associated Students executive vice president, said he was impressed by Likins' showing.
"He took the biggest issue on campus and he addressed it," Cuny said. "He really put his foot down."
At the breakfast Likins also talked about how important learning is.
"You have to keep learning your entire life or you're going to sink," Likins said. "If we (the educators) stop learning, you will also lose the capacity to keep learning."
Following the breakfast, Likins, adorned with a red and black cap and gown, marched with about 300 of his new colleagues from the steps of Old Main to Centennial Hall.
"We're going to inaugurate a great president," said regent's President Rudy Campbell to a near-capacity auditorium.
Former UA Presidents Henry Koffler and John Schaefer, Arizona State University President Lattie Coor, Northern Arizona University President Clara Lovett and Secretary of State Betsey Bayless, in place of Gov. Jane Dee Hull, traveled to the UA to wish Likins well.
"What a wonderful day for the University of Arizona," said Coor, Likins' longtime friend and colleague. "May we together, all three of Arizona's public universities, find better ways to collaborate."
In his response, Likins, 61, said he faced a river of challenges over the next few years.
"Hang on folks, we're going to take a little ride together," he said, peering over the podium. "There have been storms, of course, and casualties. There here have been sunny days on the river as well."
Likins said he will learn by observing the "river" around him and by talking with diverse groups of people. He said the University community should embark upon the UA's journey together.
"It is hard to win a race when everyone is carried by the same current," he said. "If we care about the progress of our ship relative to others ... then we chafe when a steady current controls the progress of all ships."
Basking in a sea of metaphors and hopes for the University, Likins did not forget to thank his family.
"I understand this is a formal ceremony, but I love my family and they are here with me tonight in a way that I will treasure," he said. "You're important to me and special."
After the ceremony, floods of well-wishers, wearing caps and gowns to T-shirts and sandals, covered the Arizona State Museum lawns to the tunes of Mariachi Arizona.
"He's really sincere," said freshman LaMonica Everett-Haynes, an English major, after the ceremony. "It's going to be a wonderful six years."
Everett-Haynes said, because of his diverse experiences, Likins is aware of what the students want.
"I think he is so family oriented, that he'll be good for the students," said secondary education freshman Jennifer Knox.
Likins' contract runs through June 30, 2000, at which time it will be up for renewal by the Board of Regents.
Likins was president of Lehigh University before he came to the UA.
Along with the president's job, he holds a tenured faculty position as a UA engineering professor.
He began his career as a developmental engineer at the California Institute of Technology's Jet Propulsion Laboratory, and spent six years at Columbia University in New York as provost and dean of the engineering and applied science school.
He and his wife Patricia have been married 40 years and have six adopted children.