By Tom Collins
Arizona Daily Wildcat November 14, 1997

Sweet Home...Chicago?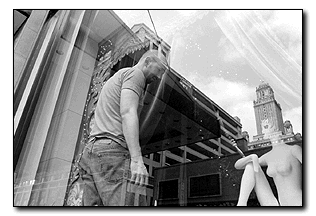 Katherine K. Gardiner
Arizona Daily Wildcat
Patrick Ewing, assistant manager for window display at Marshall Fields Department Store of Chicago, works on the store's Christmas windows.

I was born in Chicago, Illinois on July 3, 1976. My family moved Dec. 31, 1987. This is not that story.
Two weeks ago a few cohorts and I took off for Chicago. Some sort of college journalists convention - a real boondoggle, as my father would say.
It didn't really matter much, you know, any chance to get out of this town. Any chance to go someplace you've been before, some place kinda like home.
And I have referred to Chicago as home as long as I've been gone.
Waxed philosophical on the failures of the Cubs, told the tale of the glorious 1985 Bears. Remembered when Reggie Theus was the Bulls' leading scorer.
Talked about the talisman of real deep-dish pizza (it'll cure what ails you) and often thought about the Art Institute of Chicago (AIC, wouldn't you know).
This is a story about impressions.
As a kid, a trip downtown was something to look forward to, something you wanted to do. Riding the train in from the south suburbs in my winter coat, my V-neck sweater was all Peter Billingsley, all middle class and warm.
Every train ride into the city was punctuated by my mom pointing out the Michael Reese Hospital, where I was delivered.
Last weekend, on the phone from Chandler, she asked me if I'd shown the hospital to my compatriots.
I had not.
TOURIST
It took five minutes off the plane for one of our group to be impressed with the wind.
"I guess that's why they call it the Windy City," he said and I gave him a whole ration of shit about being a tourist, but after 10-odd years, what the hell was I.
My geography was weak.
My memory of what was where and how far away everything was from everything else had been skewed. Everything seems bigger, every distance longer, in the mind's eye.
See, we were right downtown, just off Michigan Avenue. As a kid, I tramped all up and down that street and State Street, from the old Water Tower to Grant Park, from the John Hancock Building to the Sears Tower and it felt like a marathon march. It's really a mile, tops.
PIZZA
A kid's Saturday in the city needs the punctuation of pizza. Specifically pizza at Gino's East - where they don't fool around.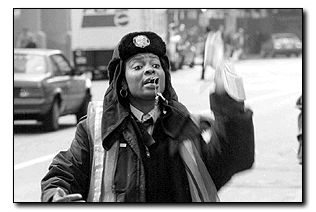 Katherine K. Gardiner
Arizona Daily Wildcat
A camera-shy traffic cop directs cars, pedestrians and bicycles through a major Chicago intersection. She said she would sue if her picture ran in any newspaper.
My parents never fooled around ordering, always cheese, sausage and mushroom. The crust, the quintessential Chicago. Flaky, thick, corn bread - so much more textured and tasteful than the local equivalent. Sausage not in little balls scattered over the pie, but one big, flat layer.
After we moved to Ohio, my father would occasionally stop in Chicago on business. When he did, he would bring a half-baked, frozen pizza home on the plane.
The family would gather around like it was a flying space disk. Enamored, worshipful and tortured by the knowledge that up there, you could eat this every night. It was possible - just down the street.
Gino's East always had it for atmosphere. The stairs to the dining room are rickety and suspect. The walls' brown paint, carved and covered with graffiti.
It's the graffiti I remember.
Sitting in a booth, you just never knew what you were going to read about. What 20-year-old dinner date, what high school football team. It was an attraction and over 10 years time, somebody in the management figured it out.
Why not repaint the walls and let the people bring their White Out and add their names to the history? And so now, nearly every piece of painted prose is from 1997 or 1996, though there are signed Marv Albert and Jim Harbaugh pictures.
CUBS
Nick moved to Chicago from Greece some 25 years before I was born.
He's been a bartender at Billy Goat's Tavern and Grill on Michigan for 10 years. Before that he worked in another place with his uncle up near Wacker Drive.
Billy Goat's is famous for three reasons:
One: In 1945, the owner, who had a white billy-goat-lookin' beard, went to see the Cubs in the World Series. He took his pet goat and wasn't allowed to bring it into Wrigley Field.
The team was cursed and the rest is ignominy.
Except, as Nick said, "They made him a millionaire."
Two: About 30 years ago the bar was moved to its current location, across the street from the Tribune Building, which, of course, houses the Chicago Tribune . Many of the Trib's writers took up regular residency at the tavern and some of their bylines are tacked to the north wall - next to the mounted head of the goat.
Now dead columnist Mike Royko tops the list, but the qualifications, Nick said, are simple: You've got to be a newsman and from Chicago.
Three: We've all seen Saturday Night Live retrospectives. And we've all seen the "Cheeseborga, Cheeseborga" sketch.
This is the site from whence the idea sprung Athena like into the minds of Bill Murray and John Belushi. Performing with the Second City comedy troupe they used to stop in.
Tourists, again, we popped into Billy Goat's for a burger and chips. Got to drink my first Old Style (My father calls it a "Chicago beer." He should know; he's from Milwaukee).
A couple bucks get you the greasiest, skinny burger you've ever seen, served on a real midwestern hard roll like the kind my uncle brings to Arizona to eat with his sausage. And you can fix it up with thick, flower green dill chips and onions.
Kick start my heart.
Nick we met the subsequent night - us, nearly broke from city living and him, serving $1.75 Schlitz draught.
He will be God's bartender.
AIC
There is a Renoir portraiture exhibit at the Art Institute of Chicago through the beginning of January. It was sold out the day we went, which is really just as well.
We got to take a look at the regular old collection, which is, without a doubt, the most spectacular thing in the fucking world.
After the fire in the 1870s, Chicagoans decided to build the institute, but they didn't really have any art to put in it. So, being smart, art-seeking folks, they went to Paris and found all this stuff. The impressionists.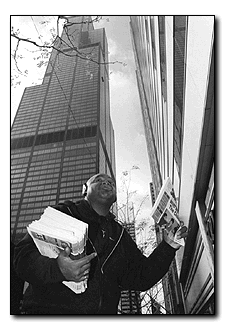 Katherine K. Gardiner
Arizona Daily Wildcat
Lester D. Edmond sells the charity newspaper Street Wise down the street from the Sears Tower, the tallest building in the United States. Edmond offers "an autographed copy" to everyone who walks by.
But the collection doesn't stop there, it stretches back to El Greco and forward to Pollack. My mom said it's like meeting rock stars.
It's Rembrandt, Picasso, Hopper, Warhol and Seurat.
Specifically, Georges Seurat's "A Sunday on La Grande Jatte - 1884."
That's the one from "Ferris Bueller's Day Off," which I heard no less than three people point out.
I have had this miniature poster of the piece for as long as I can remember, pasted it in bedroom after dorm room after apartment.
While at the institute, I learned a little about art history, sitting in on a docent's tour stop at the Seurat.
He explained the painting's creation. From the way the points blended to create colors that weren't really there to the way the light hit each character in a different way, a way no real sun could.
The docent said for more than a year Seurat sketched the La Grande Jatte, an island park in the middle of Paris' Seine River.
He explained how the pointillism draws the viewer from across the room into the painting, demands the viewer to come closer, to step through and into the canvas. And bringing that viewer in, begins to shut him out. The dots become apparent, the painting flattens.
It is a wall.
I stepped off an airplane toward a painting that I created over 10 years.
Who am I to think I could get in.