By Greg Clark
Arizona Daily Wildcat November 17, 1997

One time $10 million breaks record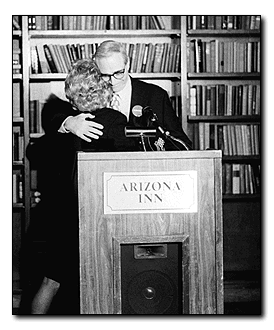 Karen C. Tully
Arizona Daily Wildcat

UA alumnus Karl Eller and his wife Stevie announce their $10 million donation to the College of Business and Public Administration. The announcement took place Saturday afternoon at the Arizona Inn.


A UA graduate demonstrated his "fierce" support of the university Saturday by making a record-shattering single year donation of $10 million.

This marks the second time in two months the university has announced a $10 million gift, but the previous gift will be delivered over 10 years.

The donation made by Karl Eller and his wife, Stevie, will establish an endowment to benefit the entrepreneurship program at the UA College of Business and Public Administration.

"I always dreamed of a day when I could help young people get some real-world experience and start their own businesses," said Karl Eller, who has founded several different multimillion dollar businesses and now runs Eller Media Co., an advertising company that owns 50,000 billboards across the United States.

UA President Peter Likins said the Eller endowment "will give us venture capital to do dramatic new things."

The endowment will produce about $500,000 a year for the entrepreneurship program, a privately funded educational program within the business school, said Gary Libecap, director of the Karl Eller Graduate School of Management.

That money will be used to fund student scholarships, pay faculty and send students to intercollegiate entrepreneurship competitions, Libecap said.

The program, open to about 65 graduate and undergraduate students, offers students the opportunity to develop business plans to start their own companies.

Eller said more than 400 students have graduated from the entrepreneurship program.

"It has been very gratifying. More than 100 businesses have been started from scratch," he said.

The endowment will allow the school to establish a new program to focus specifically on business development between the United States and Mexico.

"Each year we want to bring two to three students from the Mexican American studies program who have viable business ideas relating to the border region, and link them up with business students who have accounting and finance backgrounds," Libecap said.

A Tucson native whose mother ran a boarding house near the university, Eller said he had to work his whole life to help his family support itself.

He worked as a water boy for the UA football team during the late 1930s and early 1940s, attended Tucson High School, graduated from the UA and eventually went on to make his fortune in billboard advertising.

In recent years, the Eller family has lived in Phoenix, but the UA has always been his first love.

"Always the UA was number one in our hearts, we've always been fiercely supportive of the university," Eller said.

The multi-disciplinary entrepreneurship program helps students assemble teams with the necessary skills to create successful businesses, often bringing business students together with students from colleges of science, engineering, agriculture and medicine, Libecap said.

The program also provides students with mentors in the community, he said.

"As we become more nationally prominent, competition becomes more intense, so we have to do more to stay ahead and attract new students to the UA," Libecap said.

In 1983 Eller helped establish the Eller School, with a "significant gift," said UA Foundation President Richard Imwalle, and has been an ongoing contributor since then.

In October, a $10 million donation from Canyon Ranch Inc. to the College of Medicine's Arizona Prevention Center was made public.