By Tory Hernandez
Arizona Daily Wildcat November 18, 1997

Students voice last minute concerns on referendum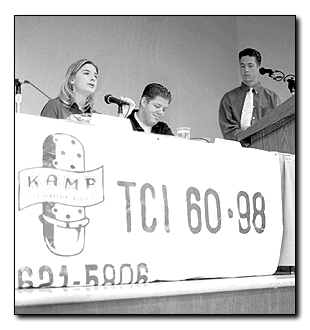 Dan Hoffman
Arizona Daily Wildcat
KAMP radio station volunteer Justin Clifton (right) and ASUA Sen. Aaron Young listen to Sen. Summer Katzenbach (left) speak out against a proposed $40 student fee at the station's forum in the Senior Ballroom of the Memorial Student Union yesterday afternoon.

With less than 24 hours until polls opened, campus leaders met with students yesterday to answer questions that still surround the Student Union referendum.
Students will vote today and Wednesday whether or not to impose a $40 per semester fee on themselves to fund $31.5 million of the proposed $70 million Memorial Student Union renovations.
About 50 students attended the noontime, open mic panel discussion sponsored by KAMP Student Radio.
Students asked the panel specific questions about funding, what services a new Student Union would offer and what return they could expect on their $80 annual investment.
The panel included: Associated Students Sens. Summer Katzenbach and Aaron Young, University Activities Board President Caitlein Ryan, and ASUA Speakers Board Director Jamie Kanter.
Students questioned what they thought was vague language surrounding the "Student Union Board" that would control the money raised by the fee.
Ryan, who supports the fee, said the board will provide protection for the students' money. The committee would have authority to discontinue or reduce the fee if necessary, Ryan added.
Kanter opposed the idea of the board because there was no one who knew how the student board would be selected.
"It's seen as a God-like protection for all of us, but we don't know how this group will be chosen; in elections or by administrators," Kanter said.
Students also questioned the reasoning behind approving a fee before plans were drawn up.
Director of Student Unions Dan Adams, addressing students from the audience, said it wasn't possible to design plans until the Arizona Board of Regents gave conceptual approval for the building. In order to garner that approval, funding for the building needed to be secured, Adams said.
Dean of Students Melissa Vito was also present in the audience.
Kanter later said students asked honest questions that should have been asked months ago.
"We as leaders haven't done a good enough job disseminating the information," he said.
"They asked questions a lot of us are still asking ourselves."
Several of the questioners were ASUA affiliated, but Sen. Morgan Long said she was there as a student.
"I wanted to clear up confusion on the differences between academic and auxiliary building funding," she said. "I hope people listen and do research because they need to be more informed."
KAMP organizer Justin Clifton said he wished the timing had been better so more students could have known about the forum.
"We would have liked to have had more than one forum, but this one went well," Clifton said.
Other students said they liked the forum idea.
"This forum was a great idea," said Chantelle Bewer, a marketing junior. "There was good discussion and this is the place where you're really going to see what students want."
Where to vote
Polls open at 9 a.m. and close at 6 p.m. today and tomorrow.
Five polling locations are scheduled to be available on campus, including at the:
Nugent Building
Harvill Building
Park Student Union
Student Recreation Center
Graduates must vote at the Law College, 1201 E. Speedway Blvd.
Votes cast today will be held by the City of Tucson officials off campus until Wednesday evening, when Pima county officials will electronically tabulate both days' ballots.